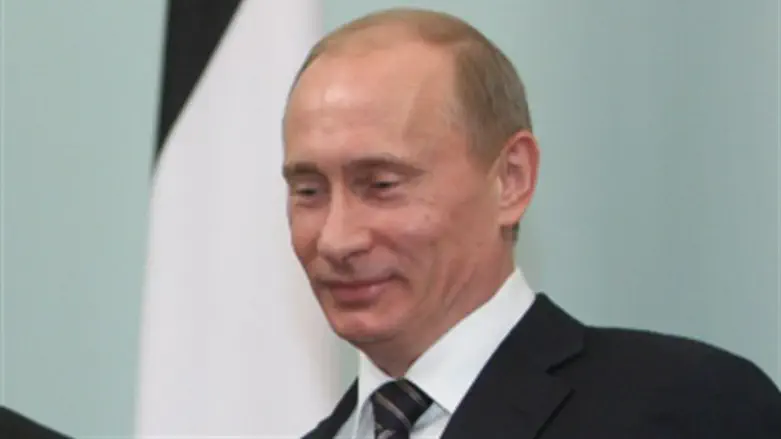 Russian President Vladimir Putin
Flash 90
Russian President Vladimir Putin has invited to the Moscow parade commemorating the defeat of Nazi Germany the families of Jewish partisans who rebelled at the Sobibor death camp.
Putin's office invited 12 people related to seven rebels at Sobibor to the Victory Day march May 9 in his nation's capital. His office is paying travel and accommodation expenses for the visitors from Israel, according to one of the guests, Lea Hirsch.
This will be the first time that descendants of the Sobibor Uprising are invited to the official parade in Moscow.
"It's a great honor and terrific recognition," Hirsch said of the gesture honoring her uncle, Josef Kopf.
In July 1943, Kopf and another prisoner staged a precursor to the main uprising that took place in October that year, when a small group of Jews killed 11 Nazis and helped free 300 inmates in a daring and meticulously planned uprising at the Nazi camp in eastern Poland.
Kopf and Shlomo Podchlebnik killed a Ukrainian guard while on work detail in a forest near camp, facilitating the escape of 14 men. Of those, only five survived the Holocaust.
Kopf, a Polish Jew, was murdered in his hometown of Turobin by a man who stole his property during the Holocaust, Hirsch said. Her uncle was buried in an unmarked grave. His killers were never identified or tried. A man in Turobin hid Hirsch's mother, Kopf's sister, at his home at great risk to his life.
The Sobibor Uprising in October, which took the German guards by surprise with tools whose use they authorized, is widely considered a symbol both of the courage of Jewish resistance fighters and the Nazis' complacency and confidence of their ability to prevent or suppress any actions by them. It was led by men with combat experience in the Soviet Army.
The annual celebration in Moscow features a military parade, including veterans of World War II, and an address by Putin.
In January, Putin attended a special commemorative ceremony at the Jewish Museum and Tolerance Center. Hirsch and other families were there at the museum's invitation. Israeli Prime Minister Benjamin Netanyahu also was on hand.
Among the inmates who fled the camp, only 53 escaped the search-and-destroy raids carried out by the Nazis in retribution. Of those, only three are alive today, according to Ilya Vasiliev, the head of the Alexander Pechersky Foundation, which is named after a key planner of the uprising.
Last month, a film titled "Sobibor" premiered in Russia, where it was produced and directed by the well-known director Konstantin Khabenskiy.