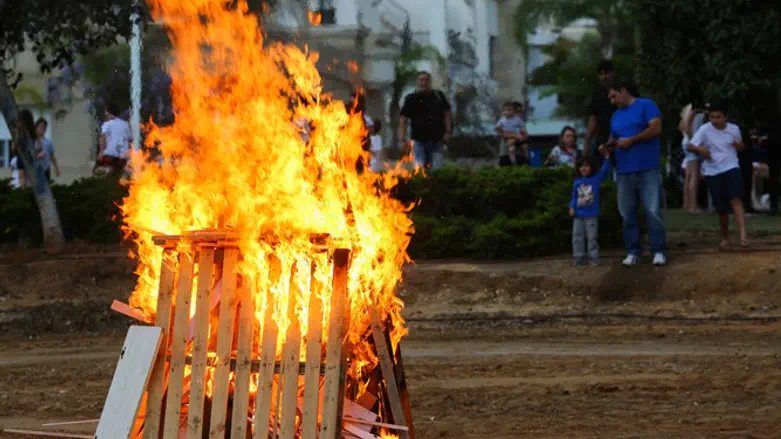 Lag b'Omer bonfire
Flash 90
The Education and Health Ministries and municipalities around the country including Haifa, Nesher, Hadera, and Tel Aviv called today to avoid Lag Ba'Omer bonfires this evening in light of extreme weather conditions, including oppressive heat and strong winds.
The Health Ministry warned against dehydration, noting a pollution increase due to smoke from the fires which could worsen the health effects in children, the elderly, pregnant women, and patients with chronic diseases.
The weather will continue to be stifling in most parts of the country. In the early hours of the morning, easterly winds will pick up in the north and mountain areas. The afternoon may see local showers mainly in the mountains and east of the country. There is little concern for flooding in the east. There may still be haze. Nighttime is expected to be partially cloudy with high clouds. In the northern and central mountains the strong easterly winds will settle.
Fire and rescue services ask that people exercise extreme caution in lighting bonfires and to observe safety rules. Bonfires should be combined to ensure safety and lessen air pollution. In light of the expected unusual weather accompanied by bracing winds, they want to reduce the amount of bonfires to lessen the risk of fires blazing out of control.
Additionally the fire should be located in a place with no flammable materials. Lighting the fire should only be done by an adult who will be responsible and supervise the children.
Firefighting and Rescue Chief Commissioner Dedi Simchi issued a blanket restriction on bonfires by virtue of his authority pursuant to Regulation 8 of the National Authority for Firefighting and Rescue regulations.
"I call upon parents and children to observe the safety guidelines that include lighting small fires, and to keep them away from forest and woodland areas and combustible materials that could endanger property and life," said the Fire Commissioner.
Earlier, he held a situation assessment in which he took into consideration the unusual weather, wind direction, and force deployment. At the end of the assessment the Commissioner signed an order mandating a series of restrictions including limiting the dimensions of the fire to a height of five feet and a diameter of up to three meters. It is important to emphasize the prohibition of lighting a bonfire in forests and groves even in designated places.
In addition, restrictions were issued to increase distances between fires and risk factors such as forests, residential buildings, gas and fuel installations, and power lines.
A letter was also issued to all educational institutions by Education Ministry Infrastructure and Projects head Asher Cohen, in which he forbids community bonfires in any framework, school-sponsored or otherwise, and recommends holding a "happening" with no bonfire this year.