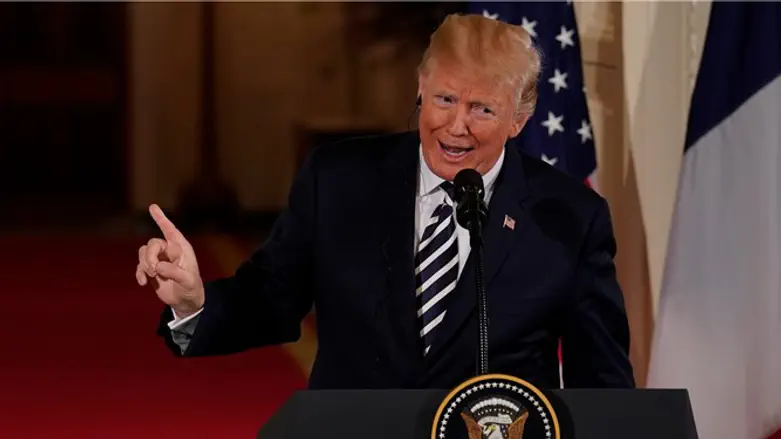 Donald Trump
Reuters
President Donald Trump's approval rating hit a one-year high this week, rising to 43.3% according to an average of polls collected by RealClearPolitics.
While Trump's approval rating was mired in the high 30s for much of late 2017, his polling numbers have been on the rise since December, when the Republican-controlled congress passed a comprehensive tax reform bill, lowering rates for most taxpayers and simplifying the tax code.
Since then, Trump has also benefited from the sudden willingness of North Korean dictator Kim Jong Un to negotiate with South Korea and the US.
South Korean President Moon Jae-in attributed the shift to President Trump's unorthodox approach, saying that he should be awarded the Nobel Peace Prize for bringing Kim Jong Un to the negotiating table.
Nevertheless, most polls show the president's approval rating underwater, with 52.8% disapproval according to the RCP average of polls. While most of the polls survey all registered voters, the Rasmussen Reports poll screens for likely voters. That poll shows 48% of likely voters approving of President Trump's job performance, compared to 50% who do not approve.
In the 2016 presidential election, Trump won 46% of the popular vote, compared to 48% which voted for Hillary Clinton, despite having an approval rating of just 35%.
In early March, Trump's approval rating was just 39.8%, compared to a disapproval rating of 55.3%.
President Trump's current approval rating is the highest it's been since May 3rd, 2017, when it reached 43.6%, according to the RCP average of polls.
Recent polls suggest that the shift in Trump's favor has been driven primarily by rising numbers among women and minorities.
According to last month's Monmouth poll which showed Trump with a 39% approval rating, just 28% of women approved of the president's job performance, compared to 50% of men. Just 22% of minorities approved of Trump's job performance, compared to 71% who said they did not.
But the latest Monmouth poll, released Tuesday, shows approval of the president's performance increasing among both female voters and minorities. While the approval rating among men dipped from 50% last month to 48% in May, the approval rating among women increased by 7 points to 35%. Among minorities, Trump's approval rating gained 5 points, rising to 27%, pushing the total approval rating according to Monmouth to 45%.
With his recent gains, President Trump has narrowed the gap with other recent presidents, including his predecessor, Barack Obama.
On May 2nd, 2010, President Obama's approval rating hit 47.7% according to the RCP average of polls, compared to 45.9% disapproval.