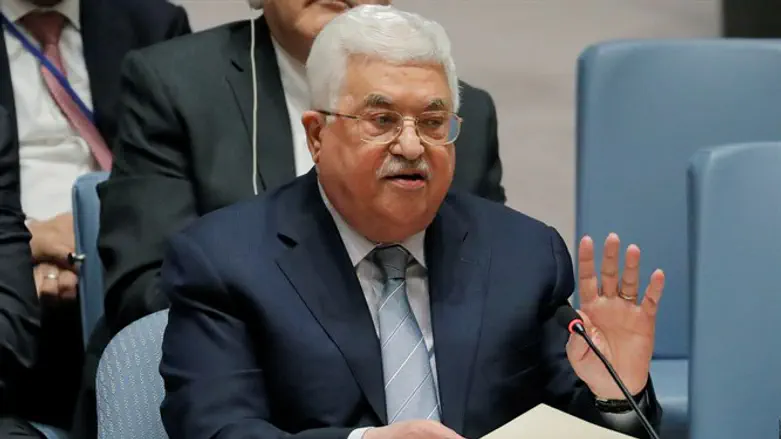 Mahmoud Abbas
Reuters
The United States Holocaust Memorial Museum on Tuesday strongly condemned Palestinian Authority (PA) chairman Mahmoud Abbas's comments blaming Jews for the Holocaust.
In a statement, the museum said that Abbas's comments blaming Jewish "social behavior" in Europe for the Holocaust "are grossly inaccurate and an insidious type of anti-Semitism. The Museum calls on all leaders and citizens to denounce and reject these sentiments. The Nazis believed that Germans were 'racially superior' and that the Jews, deemed 'inferior,' were a threat to the so-called German racial community and had to be eliminated."
"Nazi Germany and its collaborators were solely responsible for the Holocaust," said Museum Director Sara J. Bloomfield. "Abbas's self-titled 'history lesson' was anything but. Rather than expose Palestinians to accurate information about the Holocaust and the anti-Semitic persecution Jews faced for centuries in Europe, Abbas distorts the history to advance an agenda that lies about the Holocaust and Jews' connection to Israel."
In the speech, made by Abbas at a rare session of the Palestinian National Council, he regurgitated a number of anti-Semitic conspiracy theories in what he called a "history lesson," seeking to disprove the 3,000-year-old Jewish connection to the Land of Israel.
Abbas backed his story with three points made by Jewish writers and historians, starting with the theory that Ashkenazi Jews are not descendants of the ancient Israelite, and that European Jews therefore had "no historical ties" to the Land of Israel.
He went on to claim the Holocaust was not the result of anti-Semitism but rather of the Jews "social behavior, [charging] interest, and financial matters."
Earlier on Monday, U.S. Ambassador to Israel David Friedman ripped Abbas over the comments.
"Abu Mazen has reached a new low in attributing the cause of massacres of Jewish people over the years to their 'social behavior relating to interest and banks.' To all those who think Israel is the reason that we don't have peace, think again," tweeted Friedman.
Jason Greenblatt, the U.S. Special Representative for International Negotiations, also criticized Abbas's remarks.
"President Abbas' remarks yesterday in Ramallah at the opening of the Palestinian National Congress must be unconditionally condemned by all. They are very unfortunate, very distressing & terribly disheartening. Peace cannot be built on this kind of foundation," he tweeted.
The PA chairman has long been accused of anti-Semitism and even of Holocaust denial. In 1982 he published his doctoral dissertation in which he claimed that the publications on the number of Jews murdered in the Holocaust were "exaggerated" and claimed that Zionist leaders worked with the Nazis.
Abbas recently insulted Friedman himself, calling him a "son of a dog" and a "settler."
Friedman later fired back, saying, "Three Jews were killed in cold blood by the Palestinian terrorists, and the reaction from the Palestinian Authority was deafening. No condemnation whatsoever. I pointed that out, without further adjectives, without further commentary."
"Abu Mazen (Abbas) chose to respond. ... His response was to refer to me as the 'son of a dog.' Anti-Semitism, or political discourse? Not for me to judge. I'll leave that all up to you."