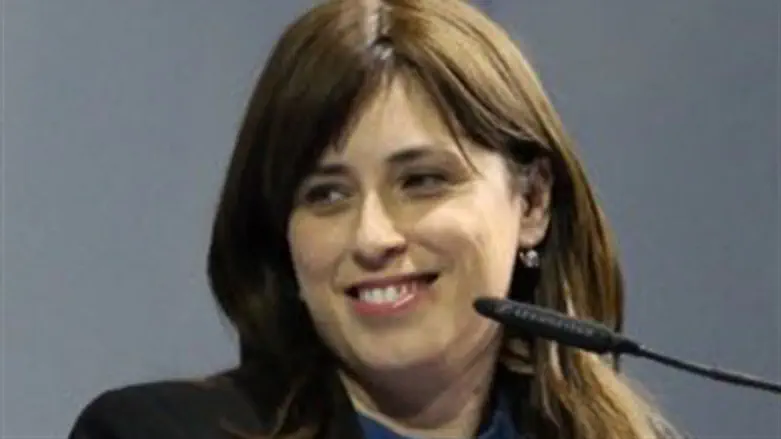 Hotovely
Flash 90
Deputy Foreign Minister Tzipi Hotovely sees the Overrule Clause that would under specified conditions allow the Knesset to re-enact laws the Supreme Court has ruled out as a step unmatched in its necessity and importance.
She says, "Apart from imposing sovereignty over Judea and Samaria, nothing is more important for the government to do than regulating the Knesset-Supreme Court relationship," she said in an interview with Arutz Sheva.
"This is a necessary move; it must happen. The Overrule Clause is the very least that can be done to restore democracy to the people and to the State. The long-standing democratic disruption that began in 1995 was the revolution of Aharon Barak that took place only within the courtroom and not in the legislature or the will of the people. Cheshin once said in a judgment that the Israeli people were forced to adopt a comprehensive constitution, and in my view, there's a great missed opportunity of what democracy is. There's a campaign here of basic misunderstanding about democracy. What destroys democracy is the reality in which an unelected body has assumed authority and has become an über-legislator. This reality which is a blow to democracy needs to be changed, and I believe the Overrule Clause with a simple majority is the right thing."
Hotovely recalls international precedents surrounding overrule clauses, and she summarizes, stating "Wherever there's constitutional review, there's a constitutional court or judges elected by the political echelon in political elections. This is a familiar reality in the greater and enlightened world. When the court's entitled to disqualify laws, the mechanism for selecting judges is different. And when there's a reality in which the judge-selection mechanism seeks to create an independent judiciary, there's a separation of powers that respects the will of the people and the sovereign that is the Knesset representing the people. This is what needs to happen in Israel."
Hotovely says a majority of 61 Knesset members should be enough to overcome the court's position. However, in light of the talks between the Prime Minister and the Chief Justice, she said, "there are areas in which we must reach understandings and compromises. We have to see whether the number 65 will enable existence of laws that represent the majority in Israel, but legally, there's no problem in the view of the democratic world with a simple majority."
Asked why she does not make do with a random majority, she replies she believes the number 61 is "a number that expresses where the majority is in the Knesset, in contrast to the basic laws that were passed by a tiny majority. When you go for Overrule, you should go for a respectable majority."