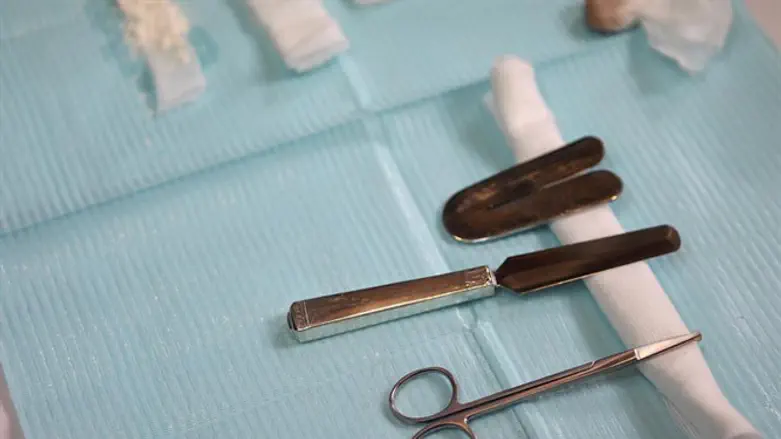 Preparing for circumcision
Flash 90
A controversial bill in Iceland which would ban circumcisions for minors and would make those performing circumcisions on children – as well as parents who arranged circumcisions for their children – liable for jail time will not be voted on by the Icelandic parliament.
The bill, brought before Iceland's parliament earlier this year, provides for a maximum sentence of six years in prison for those performing or arranging for the circumcision of a minor.
Iceland's parliament initially backed the proposal, which passed a preliminary vote.
"As it looks now, the bill has a high chance of passing," Rabbis Yair Melchior and Yoav Melchior – the chief rabbis of Denmark and Oslo – wrote in January.
But the proposed legislation drew a torrent of criticism, including bipartisan calls by US lawmakers to reconsider the bill.
"While Jewish and Muslim populations in Iceland may be small, your country's ban could be exploited by those who stoke xenophobia and anti-Semitism in countries with more diverse populations," Congressmen Ed Royce (R-Calif.) and Eliot Engel (D-NY.) wrote in a letter sent to the Icelandic embassy in Washington earlier this month.
European Jewish leaders, including the Conference of European Rabbis (CER), lobbied against the bill's passage, and gained the support of some local Christian groups.
"The Nazis enacted such a law in 1933 and we know how it ended," Rabbi Pinchas Goldschmidt, president of the CER, said at a conference in Iceland organized by Protestant and Catholic European groups.
"This move is not only a violation of the basic human right to freedom of religion or belief, but a sign that people of Jewish or Muslim background are not welcome in Iceland."
Now, it appears that Iceland's parliament is prepared to drop the bill, after the parliament's judicial committee recommended against its passage.
"This battle is over, but not the war," Rabbi Goldschmidt told Hamodia, saying that while this particular bill had been defeated, other similar bans on not only circumcision but also traditional slaughter (shechita) would likely be presented elsewhere in Europe.
"I think that the international pressure has made them back off, but the fight for milah [circumcision], and shechitah as well, is going to continue around Europe."