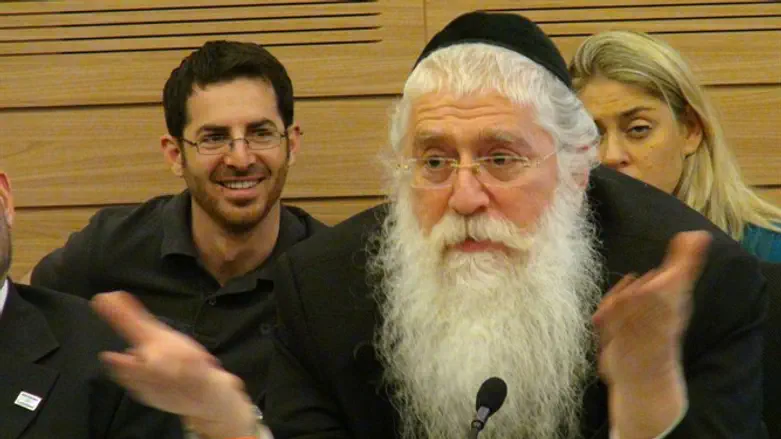 Meir Porush
Hezki Ezra
Members of the haredi anti-Zionist Neturei Karta faction heckled and booed UTJ MK Meir Porush on Sunday as he attended a circumcision at the Vizhnitz hassidic center in Beit Shemesh.
According to the haredi Kikar Hashabbat website, the radicals targeted Porush as a representative of the United Torah Judaism party, and over his alleged support for haredi service in the IDF.
The Neturei Karta movement opposes any involvement with the state and has long condemned haredi political parties for joining the Knesset.
The report added that the Vizhnitz Grand Rabbi, or Rebbe, had taken personal offense after the incident as he had personally invited Porush to his grandson's circumcision.
Porush, who is a member of the Vizhnitz sect, had wanted to refrain from attending the circumcision so that the event would not be marred by expected protests by extremists but had been ordered to attend by the Vizhnitz Rebbe in what was seen as a show of support for the embattled lawmaker.
"I am pleased that the community does not take money from the state and we hope that we will be able to continue with it," the Rebbe said. "On the other hand, I am not prepared to personally condemn people. One can argue with viewpoints and not with people. "
On Rosh Hashana, Porush was heckled by members of the anti-Zionist Satmar hassidic movement while he prayed at the main Vizhnitz synagogue in Monsey, New York. Porush was in the middle of prayers when a band of hassidic Jews identified with Satmar started to yell at him for "destroying the Jewish people through the forced IDF draft."
Police were summoned to the scene and hauled off the hecklers.
Earlier, large notices were plastered across Monsey ahead of Porush's visit. "Once more, one of the greatest collaborators with the destroyers of God in our holy land came to our town in Monsey, to bring yeshiva students to the destruction camps of the IDF, and to instill heresy in our educational institutions. With every step he takes, he destroys the wall separating Torah and the Zionist poison" read the missives.