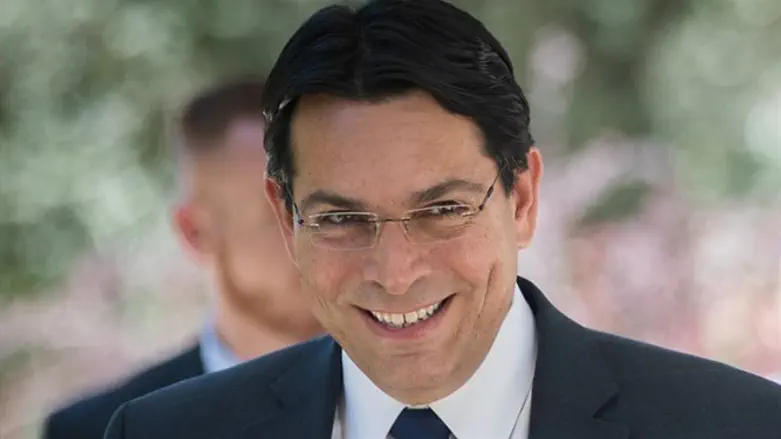 Danny Danon
Flash 90
Israel's Mission to the United Nations and the Consulate General of Israel to New York held a special celebration on Broadway in honor of seventy years of Israeli independence.
Hundreds of ambassadors, senior UN diplomats, local officials and community leaders joined with Israel's representatives to the United Nations and New York for a special showing of the Band's Visit.
Based on an award-winning Israeli film, the play portrays a small Israeli town in the mid-1990s and the reaction of the local residents when an Egyptian band ends up visiting unexpectedly. Through the play, the audience has the opportunity to learn about the beautiful mosaic of cultures and personalities which make up Israeli society.
"We are honored that our friends from around the world joined us in celebrating the momentous occasion of seventy years of independence," Israel's Ambassador to the UN Danny Danon said. "Despite the challenges we face, Israel today is more secure and prosperous than at any point in history. Put simply, Israel is the best show in town, and we are only in the first act. The best is still yet to come."
"The Band's Visit shows us that crossing a border with a tuba is much better than crossing it in a tank. While many still choose to threaten and deny our right to exist, our audience tonight includes guests from almost every culture and background imaginable. Our fledgling cultural scene is just one of the many ways Israel has transformed not only itself but the world in the past seventy years," Israeli Consul General to New York Ambassador Dani Dayan said.
The celebration was hosted in cooperation with the Genesis Philanthropy Group and the UJA Federation of NY.
"We are tremendously excited to celebrate Israel's seventieth anniversary, particularly in partnership with the Israeli Mission to the UN, the Consulate General of Israel in New York, and our close communal partners at the UJA Federation of New York," Genesis Philanthropy Group CEO and President Ilia Salita said.
"This celebration of Israel's milestone birthday affords all of us a meaningful opportunity to embrace cultural diversity and highlights the special role the Jewish State plays in our lives."