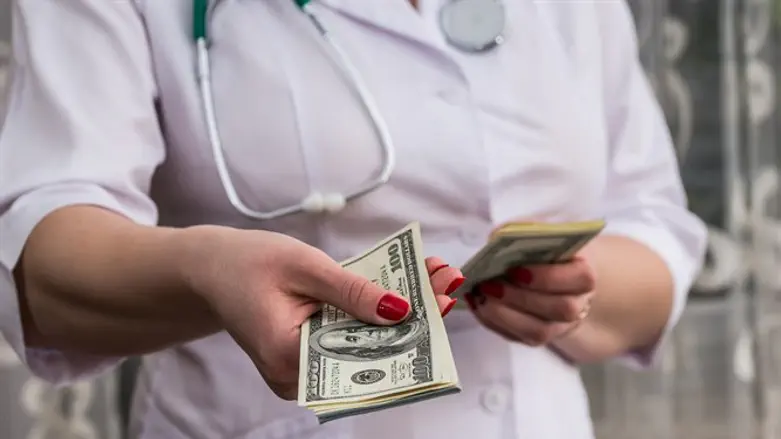 Doctor returning money
iStock
A family of Holocaust survivors from Switzerland who annually donate NIS 5 million to promote young doctors at the Sheba Medical Center at Tel Hashomer threatened to withhold their donation after learning that among the recipients would be a female Arab doctor.
Yediot Ahronot reports the donation was intended for the Talpiot program, which has been operating for 13 years at the Sheba Medical Center at Tel Hashomer. In it, 8 to 10 outstanding young doctors are selected every year for tens of thousands of dollars in assistance to finance research, seminars, conferences, and publications.
According to the report, the committee managing the program decided this year to add also an Arab urologist to the list of beneficiaries.
Sheba Medical Center
Flash 90
When it became known to the family of Swiss donors, they immediately announced the donation was canceled because they said they had no intention of giving to a non-Jewish doctor. The donors also canceled the grant to all eight doctors, and announced they would transfer the money only if the hospital withdrew the Arab doctor's approval.
Yediot Ahronot reported that hospital Director Prof. Yitzhak Kreis decided not to cancel the outstanding doctor's award even at the loss of a generous donation, and found an alternative funding source for the program.
Sheba Medical Center said in response: "The Talpiot program is the spearhead of the future generation of physicians in Israel, and as the largest and leading medical center in Israel, we view the training of the future generation as part of our duty to equal, professional, and service-oriented public health in Israel.
"We are grateful to the donors who, with their kind assistance, could have molded this significant program which continues to grow. This year the largest cycle of the outstanding, trailblazing, humane, and dedicated physician's program is being launched. We will continue to promote and invest in these physicians, who are changing the face of medicine and leading their fields at the national and international levels."