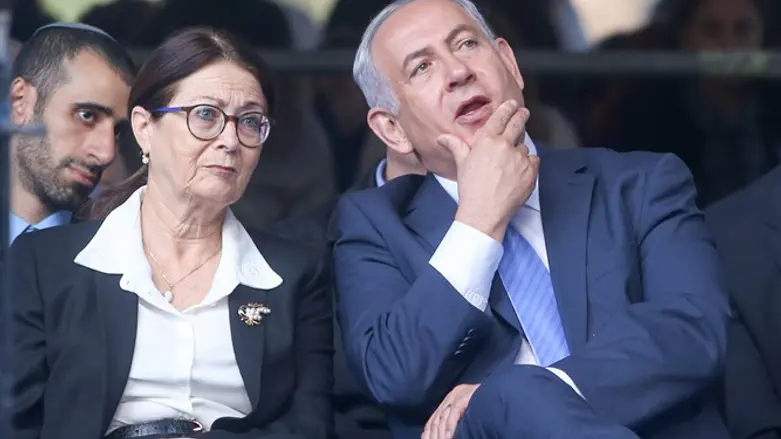 PM Netanyahu and Chief Justice Hayut
Flash 90
Prime Minister Binyamin Netanyahu agreed to the demands of Supreme Court Chief Justice Esther Hayut and asked Justice Minister Ayelet Shaked to postpone the discussion on the passage of the Overrule Clause, which was to take place next Sunday.
Earlier, the Prime Minister's Office had appealed to Chief Hayut to hold a meeting with the Justice Minister regarding the Overrule Clause on Sunday.
Justice Hayut announced that she was willing to accept the invitation and that Justice Hanan Meltzer would also attend the meeting, on the condition that the meeting of the Ministerial Committee of Legislation to discuss the Overrule Clause would be delayed by at least a week.
MK Betzalel Smotrich reacted angrily to the conditions set by Justice Hayut for the meeting with Prime Minister Netanyahu.
"Chutzpah which knows no bounds," Smotrich wrote on his Twitter account. This is a blatant judicial intervention in the work of the government and the Knesset. The president [of the Supreme Court] does not do the prime minister any kindness in 'deigning' to meet with him."
"I also do not remember that she met him for discussion before she overruled Knesset laws without blinking. If the prime minister surrenders, he humiliates us all to the ground and proves that he is simply not a leader," Smotrich added.
Recently, Netanyahu met with former Supreme Court President Aharon Barak and discussed with him the passage he intends to legislate.
Netanyahu told the retired Justice that he intended to promote an expanded Overrule Clause because it was time to arrange the relationship between the judiciary and the legislature.
He clarified that the extended Overrule Clause would be passed within the framework of a law that would determine the proper relations between the legislative branch and the judicial branch. The Prime Minister also emphasized to Barak his commitment to the judicial system in general and the Supreme Court in particular.
The he Overrule Clause would, under specified conditions, allow the Knesset to re-enact laws that the Supreme Court has ruled out.