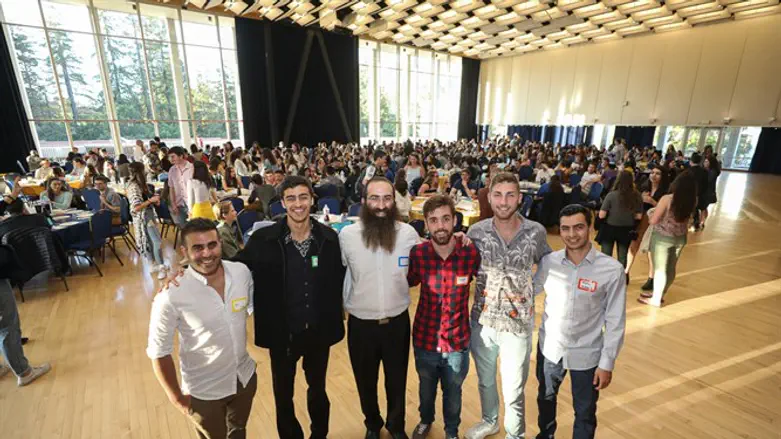 Chabad brings IDF wounded to US campuses
צילום: Bentzi Sasson
As Israel and the IDF dominate international headlines, two IDF veterans, Matan Roettger and Or Porat, are visiting college campuses in the United States to talk about their real-life experiences fighting terror and keeping civilians safe.
"Unfortunately, Israel is being demonized again by the international media for defending itself against terrorism" said Chabad on Campus International Executive Vice President Rabbi Yossy Gordon. "Or and Matan are here to give students a look behind the headlines, and a chance to see the real challenges faced by IDF soldiers in keeping Israel and its citizens safe. Encounters like this between young American and Israeli Jews with very different life experiences can only strengthen the unity of the Jewish people."
Matan Roettger, 22, served in the Kfir brigade as a combat medic and a company medic. While on a mission to find three wanted Hamas members, he was deliberately rammed by a car, along with two other members of his unit. Matan lives in Mishmar David, a small community in central Israel.
IDF soldiers tour US campuses
צילום: Bentzi Sasson
Or Porat, who lives in Jerusalem, served in the elite Duvdevan commando unit. A terrorist threw a bomb at Porat during a covert mission, injuring his right leg. He still has difficulty walking to this day.
"We are privileged to connect Jewish communities around the world to the Land of Israel," said Or Porat. "For us personally, it is also very healing to share our stories and see the reactions and love from the Jewish community wherever we go."
The veterans are traveling to campuses throughout April and May, talking about their time in the IDF, the operations in which they were injured, and their recovery process. They are also celebrating Shabbat with students.
Roettger and Porat are visiting seven campuses in Arizona and California: Northern Arizona University Flagstaff campus; Arizona State University; Chapman University; UC Irvine; California State University, Northridge; UC Berkeley and California Polytechnic State University.
Sarah Winkelman, a Junior at Arizona State University, who is majoring in political science and global studies declared the event the most significant she'd ever been to at ASU. "I felt so moved and empowered afterwards," said Winkelman. "I have never felt so proud to be Jewish, and thankful for the soldiers who protect our homeland of Israel."
The soldiers' tour was organized by Balev Echad, a group that supports wounded Israeli veterans, together with Chabad on Campus International.
Founded in 2009 by Rabbi Uriel Vigler of New York and his wife Shevy, Balev Echad is dedicated to helping veterans of the IDF reintegrate into civilian life with the love and support they need to thrive. Money raised helps wounded Israeli soldiers live fulfilling lives after giving so much to defend their country.
"We're proud to be working with wounded Israeli soldiers and giving to them after they've given so much to the people of Israel," said Rabbi Uriel Vigler, co-founder of Balev Echad. "This tour provides an opportunity for Jewish students to learn from heroes like Matan and Or and to be inspired by them."