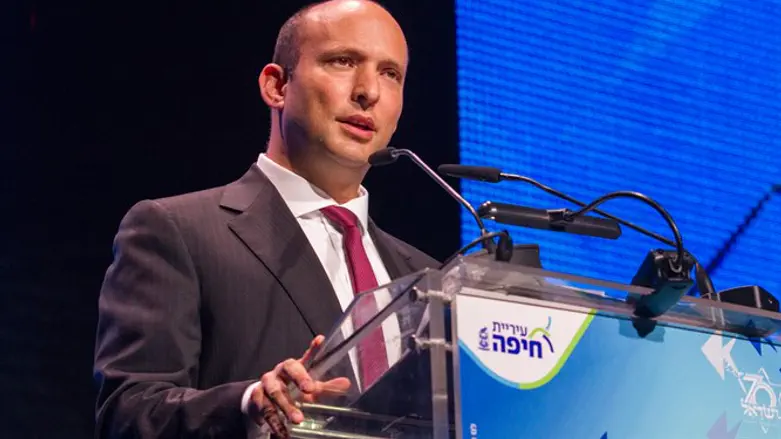 Naftali Bennett
FLASH90
Education Minister Naftali Bennett (Jewish Home) slammed the Supreme Court over its judicial activism, accusing it of assuming the role of the executive branch.
In an interview Sunday evening with Channel 2, Bennett justified his recent efforts to push legislation to empower the Knesset to override Supreme Court decisions with a simple majority – a bill opposed by Attorney General Avichai Mandelblit.
Earlier on Sunday, Bennett revealed plans to bring up his bill in the Ministerial Committee for Legislation next Sunday, despite efforts by Prime Minister Binyamin Netanyahu to delay a vote on the proposal.
While Mandelblit has suggested reforms which would limit the ability of the Supreme Court to nullify Knesset laws to rulings with a two-thirds majority and a minimum of nine judges ruling, as well as a clause permitting the Knesset to override court rulings with 70 votes in the 120-memebr Knesset, Bennett has pushed for a bill allowing the Knesset to override court decisions with a bare 61-vote majority in the Knesset.
The bill, popularly referred to as the "Override Clause", would alter Israel's Basic Law on Human Dignity and Liberty.
In the Channel 2 interview Sunday, Bennett explained the purpose of the bill, and why he believes it is critical to restore balance between the executive and judicial branches.
"The Supreme Court has taken the executive branch – the government. The Supreme Court doesn't have the right to cross all the lines and grab power for itself, unless it's an extraordinary situation."
Bennett noted the unusually large number of laws passed by the Knesset which have been nullified by the Supreme Court in recent years.
"The court struck down the Infiltrator [Deportation] Law twice, blocking us from deporting [the infiltrators], and blocked us from expelling terrorists or demolishing their homes," continued Bennett, referring to recent court decisions blocking the IDF from destroying the home of Omar al-Abed, who in July 2017 murdered three members of the Salomon family in their home in Neve Tzuf (Halamish) in Samaria.
The court also threw out in 2017 the first Infiltrator Law, aimed at deporting thousands of Eritrean, Somalian, and Sudanese illegal immigrants living in Israel. In 2018, the court froze implementation of a new Infiltrator Law, and in April, ordered the government to release more than 200 infiltrators who had been detained for refusing to leave the country.
"The Supreme Court has tossed out nearly 20 laws in the last few years, and that is outrageous," continued Bennett.
"We want the Supreme Court to be able to nullify laws only in extraordinary circumstances. The Knesset will be able to pass laws a second time [after their nullification by the court] in a protected manner, with a special majority of 61 Knesset members. Only this way can we remove the infiltrators from Israel."
Ordinarily, passage of new legislation requires only a majority of Knesset Members voting – typically less than 61 MKs, a majority of the full Knesset.