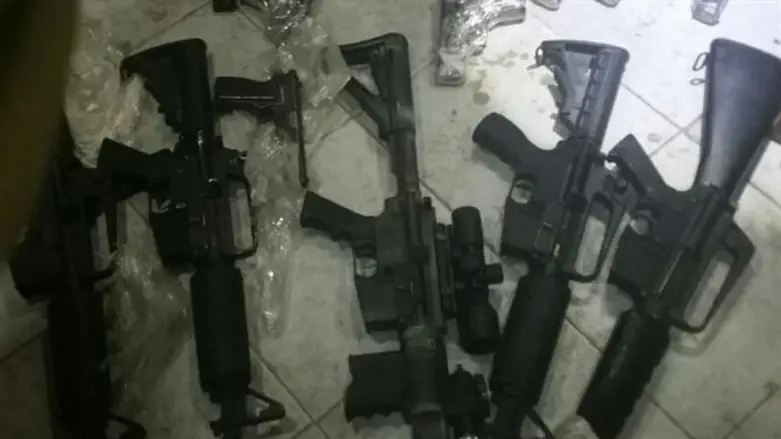 Confiscated weapons (Illustration)
IDF Spokesperson's Unit
It was revealed for publication on Sunday that two Bedouin from southern Israel were indicted earlier this month for trafficking weapons to Palestinian Arabs.
The defendants, who were from the city of Arara, had allegedly stolen weapons from IDF bases and smuggled them into Judea and Samaria with the help of a local resident, who has been arrested as well.
The arrests came at the end of an investigation run by the Israel Police and the Shin Bet internal security agency.
Both of the defendants are facing various charges relating to the illegal use and sale of weapons.
The indictments come as the Israel Police has been cracking down on the rampant weapons and drug smuggling among Israel's Bedouin tribes.
In February, police special forces raided the Bedouin town of Bir Hadag, which is known as a major hub for drugs and weapons trafficking. During the operation, officers seized two stolen IDF jeeps, assault rifles, and uncovered a greenhouse for cultivating marijuana.
In January a large gun battle broke out between Bedouin drug smugglers and police smugglers after police ambushed a shipment of narcotics coming in from Egypt. Video of the incident shows over 30 smugglers climbing over the border fence carrying hundreds of kilograms of marijuana and hashish. One suspect was killed in the incident.