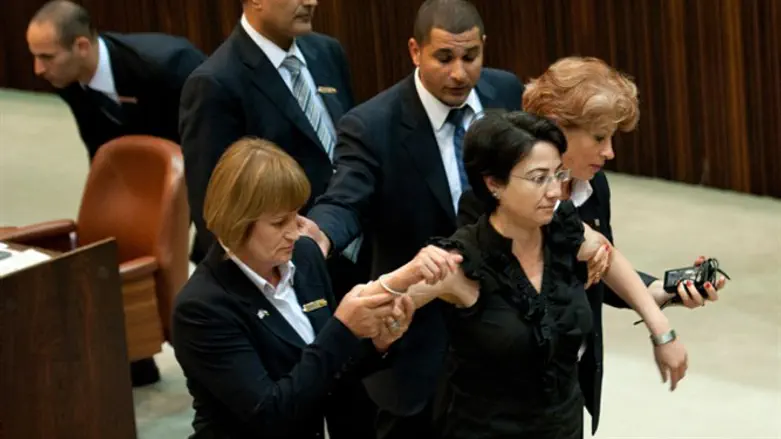 Hanin Zoabi being removed from the Knesset
Flash90
Yesh Atid Chairman Yair Lapid announced on Sunday that his faction will support legislation enabling the Knesset to oust controversial Arab-Israel lawmaker Hanin Zoabi from office.
Lapid said that he decided that Zoabi needed to be booted from the Knesset after she said two weeks ago that 'millions of Palestinians' should march on Jerusalem following the violent riots in Gaza. The incident joins a long list of similar statements by Zoabi, who is known for her outspoken opposition to Zionism and open support for the Hamas terrorist group.
"I and two other members of the (Yesh Atid) faction will sign the legislation. Zoabi should not be in the Knesset," Lapid told Kan radio.
"There is no parliament in the world that would let a terror supporter serve in it," added Lapid. "I do not say that the Joint List party should be disqualified, but Balad should be disqualified because it supports terror, and Hanin Zoabi should not be in the Knesset because she supports Hamas."
The Joint List party is comprised of several different Arab-Israeli factions, including the Hadash Communist party and the Balad Arab nationalists. Zoabi and her Balad counterparts have infuriated Israelis with a long string of anti-Israel comments and actions.
In 2017, Zoabi said that Israel is "closer to the Nazi regime" than she herself is. She has also claimed that "Jews are not a nationality, so we cannot talk about self-determination for the Jewish people" and said that Israel leaving Judea and Samaria is not enough, since "Zionism should leave from the whole area."
Zoabi has also said that she views sovereign Israeli territory as "occupied" Palestinian territory. Last year, during a discussion in the Knesset on the reconciliation agreement with Turkey, she openly called IDF soldiers "murderers".
According to the Knesset's bylaws, an MK can be ousted if 90 other lawmakers support the move.