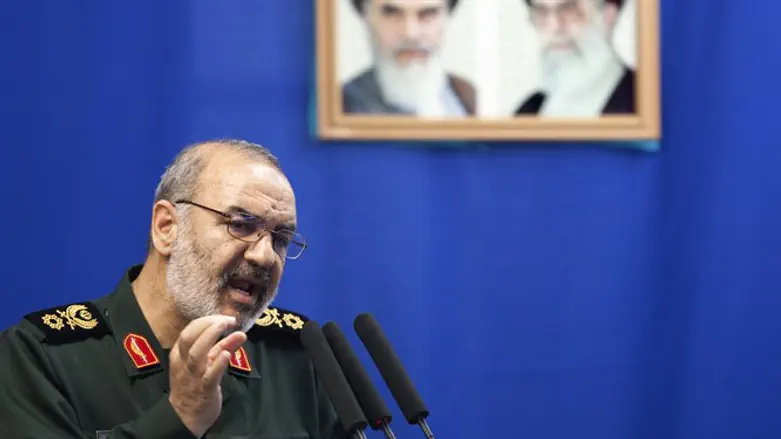 Hossein Salami
Reuters
The deputy head of Iran's Revolutionary Guards, Brigadier General Hossein Salami, threatened Israel on Friday, warning the Jewish state that its military bases were within reach.
"Don't trust in your airbases; they're within reach. Don't have hope in the U.S. and the UK," he said.
"Wherever you are in the occupied land, you'll be under fire from us, from east and west. You became arrogant. If there's a war, the result will be your complete elimination. Your soldiers and civilians will flee, and you won't survive. And you'll have nowhere to run, except to fall into the sea," added Salami.
Defense Minister Avigdor Liberman responded to the threats during a visit to the Gaza Belt area later on Friday.
"We have been hearing these threats for many years now. I suggest to all those on the northern border to think carefully about what they are doing. It is really not worth their while to test the IDF or the State of Israel and we are ready for any scenario. I do not remember such readiness and willingness in both the army and among the people of Israel," he said.
"We are not looking for war. On the contrary, we are looking for quiet, calm and security, but if someone is plotting a war, he will bear the responsibility. I do not know if anyone is plotting a war but we are calm and like I said we are prepared for everything," stressed Liberman.
Tensions between Israel and Iran have been rising over Iran's military presence in Syria. Last week, the IDF revealed that an Iranian drone which violated Israeli airspace in February had been carrying explosives.
In addition, Iranian soldiers were reportedly killed in an alleged Israeli air strike against a military airbase belonging to the Assad regime near the Syrian city of Homs last week.
Iranian officials have threatened to retaliate for the alleged Israelis trike.
Earlier this week, Brigadier General Kioumars Heydari, the commander of the Iranian ground forces, said that "the date has already been set" for the destruction of Israel.
(Arutz Sheva's North American desk is keeping you updated until the start of Shabbat in New York. The time posted automatically on all Arutz Sheva articles, however, is Israeli time.)