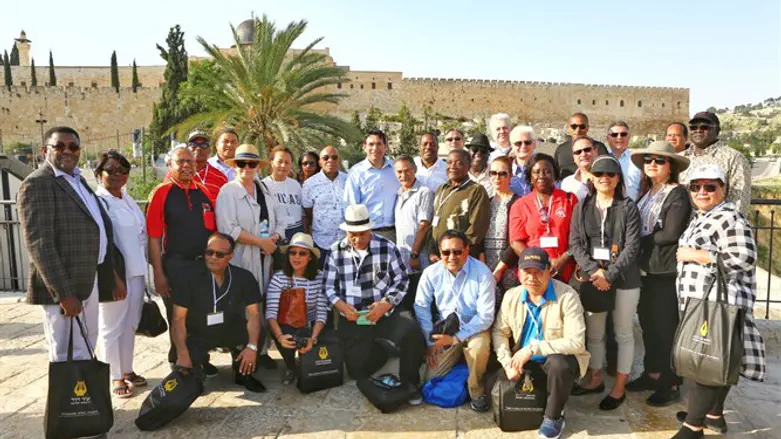 The Ambassadors
Avi Dodi
Dozens of United Nations ambassadors from around the world, led by Ambassador Danny Danon, are in Israel this week to partake in the celebrations marking seventy years to Israel's independence. The delegation, which consists of representatives from Europe, Latin America and Africa includes ambassadors from Hungary, the Czech Republic, South Sudan, Ethiopia, Ukraine and Guatemala.
The ambassadors will take part in the celebrations later today at the President's Residence in the presence of President Reuven Rivlin and Prime Minister Benjamin Netanyahu. While in Israel, the ambassadors had the opportunity to meet with senior leaders and IDF officers. Earlier this week the ambassadors visited the Dead Sea and Masada, spent time in Tel Aviv, toured Mahane Yehuda, the City of David and the Western Wall in Jerusalem, laid a wreath at Yad Vashem and were briefed on the security situation along the Gaza border and in a terror tunnel.
"We are proud to host so many friends of Israel from around the world who came here to celebrate seventy years of independence with us and to strengthen the ties between our countries during this historic visit," said Ambassador Danon. "There is no doubt that their time in Israel will leave the ambassadors with important impressions not only about the challenges Israel faces, but about the special spirit of our country and the contributions that we make to the international community," Ambassador Danon concluded.
Guatemala's Ambassador Jorge Skinner-Klee: "The positive feelings that Guatemala has towards Jerusalem are the result of not only the Bible, but from the values of the State of Israel and the contributions it makes to the world in so many areas like science and technology. I believe that the ties between our two countries will only continue to strengthen."
Solomon Islands' Ambassador Robert Sisilo: "This has been an inspiring experience. It gave me a sense of appreciation for why the Jewish people are so resolute about being united and being brave in trying to maintain the State of Israel.
Ukraine's Ambassador Volodymyr Yelchenko: "This is a great place. A place of memories and history. I wish for Jerusalem to be a place for peace and to remain such a place forever.
Cameroon's Ambassador Michel Tommo Monthe: "This visit has been inspiring. Israel has built big things from small things. Where there is heritage, you should protect it and build on the tradition of people who moved from nothing to everything."
Ethiopia's Ambassador Tekeda Alemu: "This has been a fantastic experience. My fellow ambassadors and I learned many lessons. One lesson was the fact that there is a clear connection between the Old City of Jerusalem and the Jewish people. That is something that cannot be ignored."