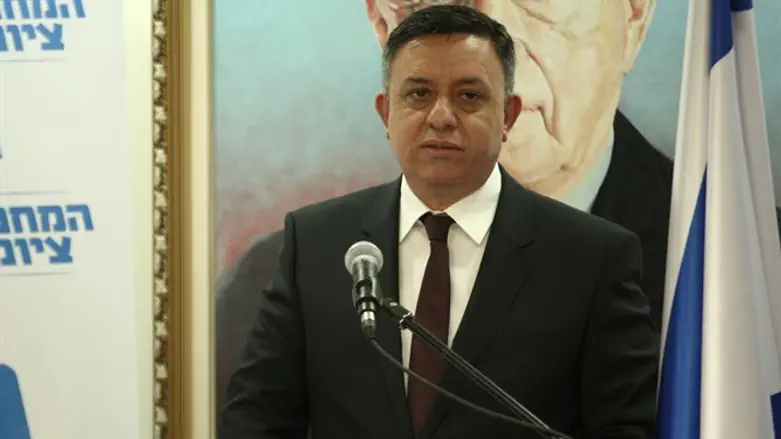 Avi Gabbay
Hillel Maeir/TPS
Zionist Union chairman Avi Gabbay on Sunday blasted the government for its plan to approve the Overrule Clause, which would allow the Knesset to re-enact laws that were previously rejected by the Supreme Court.
"There is no such thing as a Supreme Court with the Overrule Clause. It's an Israeli patent that does not hold water. I call on the prime minister to act like a prime minister. You were elected for this purpose. Stop blindly following Smotrich," Gabbay charged.
"Unfortunately, Smotrich, whose party just yesterday painted the judges of the Supreme Court as Hamas terrorists who fire missiles at Israel, is the real prime minister. He initiates, navigates and determines. All the extremist decisions begin with him, continue with Bennett who resonates with them, and end with Netanyahu following along, simply because he is afraid," he added.
Gabbay said that the Overrule Clause is a dangerous legislation that attempts to uproot the Supreme Court and leave the citizens alone to face the governmental tyranny and the injustice of the government.
"In a week of unity and commonality, the government chooses to go to battle against one of the symbols of government and democracy in the State of Israel - the Supreme Court of Justice," he charged.
"In the face of the total bankruptcy of the government and the coalition partners, we are putting forward an alternative that is not afraid of the Supreme Court but rather strengthens the Supreme Court, which does not follow the extremists but strengthens the moderate Israeli majority."
"We will work to ensure that the [Overrule Clause] initiative does not pass and we will lead to the dismantling of this bad government and to general elections. This will send a true message and bring a new hope for the people of Israel," Gabbay concluded.