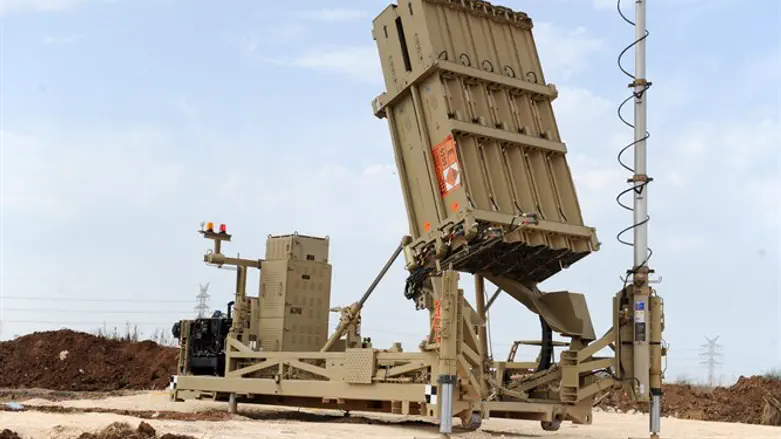 Iron Dome
Defense Ministry
The Iron Dome defense system is the winner in the Economy Ministry competition for the greatest invention of the country. Taking second place, surfers chose Waze technology, while drip irrigation took third place.
On the occasion of the State of Israel's 70th anniversary, the Economy and Industry Ministry chose the pioneering products and technologies initiated and developed in Israel throughout the country's existence. In the last few weeks, the public voted for 70 of the inventions on the Internet, from which the public has chosen Iron Dome as the leading invention.
The competition took place in two stages: In the first stage, more than 52,000 surfers selected 9 inventions of the 70 to reach the finals from a variety of categories. In the second stage, more than 63,000 surfers chose the single greatest invention of the State in the following order (from the second stage):
Iron Dome - 28% of the vote;
Waze - 17.77%;
Drip irrigation - 17.75%;
Disk On Key - 10.96%;
Surgical assistance robot - 8.18%;
Watergen (water production from the air) - 8.08%;
Shoresh Sandals - 4.38%;
Check Point - 2.69%;
Ofek - 2.18%.
Economy and Industry Minister Eli Cohen says, "Israel has become a world power in all its endeavors regarding technological and scientific innovation and development. The boldness, ideas, and inventions that stemmed from the State's existential need in its early years to defend and sustain itself have pervaded the planet and transformed Israel into a technological greenhouse for the entire world. I'm sure that the Israeli characteristics including original thinking, boldness, rapid adaptation to changing conditions, and the ability to bypass artificial barriers help us continue to bring the world the news of Israeli innovation and novelty in the future.
"There's no dispute that the inventions just chosen by the public as leading inventions are excellent examples of Israeli ingenuity, innovation, and creativity that provide solutions to significant challenges, inspire the world, and bring a lot of national pride for Israel. The Economy and Industry Ministry is proud to present and share with the public through the 'Innovations of Israel' competition the wide range of inventions, innovations, and technologies that Israel's unique human capital has brought to the world throughout the years," Cohen added.