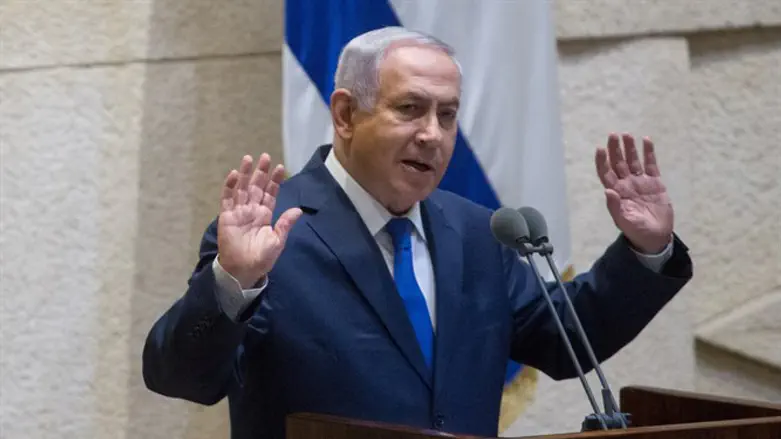 Netanyahu addresses Knesset plenum
Flash 90
The coalition heads convened for a discussion on the relationship between the legal system and the legislative and executive branches that ended this morning with no practical decision.
Prime Minister Binyamin Netanyahu, who at Thursday's faction meeting declared his intention to promote the widest-reaching solution model possible - the British model - changed his tone drastically this morning.
In today's discussion Netanyahu called the British model, which completely deprives courts the authority to annul laws, "extreme". He did not steer the discussion toward reaching immediate operative decisions.
Attorney General Avichai Mandelblit demanded that for an Overrule Clause to prevail, a majority of 70 Knesset members be required to re-enact a law rejected by the justices.
Mandelblit noted it is possible to increase the majority required to disqualify laws to six out of nine judges, but on the other hand, the validity of an overruling law should be limited to only five years.
At the end of the meeting it was agreed to continue the discussion in coming days.
Finance Minister Moshe Kahlon warned he would not accept any broad solution, and demanded the focus only be on solving the infiltrator issue. "We just concluded a discussion with the Prime Minister and our position is that we will support anything providing a solution to the infiltrator problem. All other whims aren't on the agenda," Kahlon said upon leaving the meeting.
On the other hand, Jewish Home Party Chairman Naftali Bennett said his party demands immediate progress: "In light of the continued erosion of the executive branch's power in recent years, it's time for the judges to return to justice and the government to go back to governing. It's important that we move from words to deeds. I'll support any version of legislation."
Prime Minister Netanyahu also mentioned the meeting at the cabinet meeting's opening, saying "such a discussion took place last time more than 10 years ago and will be continued later this week. We have a desire to reach balanced and correct solutions."