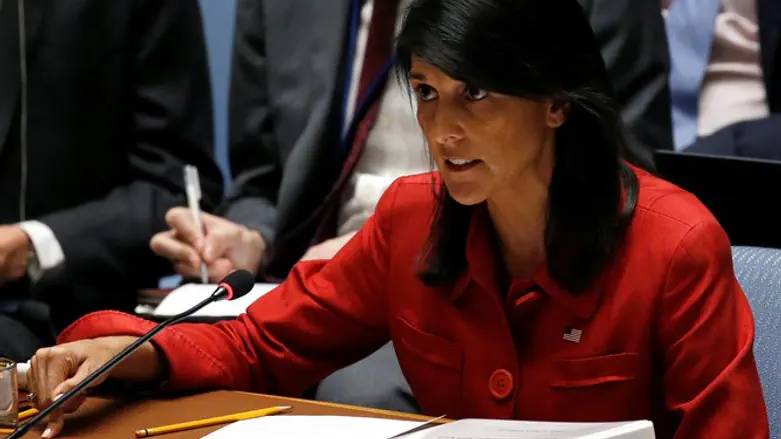 never misses chance to defend Israel: Haley at UN
Reuters
U.S. Ambassador to the UN Nikki Haley on Friday said that Syria had used chemical weapons at least 50 times during that country's civil war.
"Let's be clear: Assad's most recent use of poison gas against the people of Douma was not his first, second, third, or even 49th use of chemical weapons The United States estimates that Assad has used chemical weapons in the Syrian war at least 50 times. Public estimates are as high as 200," she said at an emergency meeting of the UN Security Council called by Russia, in a reference to last Saturday's attack in which sarin nerve gas is believed to have been used.
"Our President has not yet made a decision about possible actions in Syria. But should the United States and our allies decide to act in Syria, it will be in defense of a principle on which we all agree. It will be in defense of a bedrock international norm that benefits all nations…The United States and our allies will continue to stand up for truth, accountability, justice, and an end to the use of chemical weapons," added Haley.
Meanwhile, White House spokesman Sarah Huckabee Sanders said Friday that the Syrian government was responsible for the Douma attack.
"We have a very high confidence that Syria was responsible and, once again, Russia's failure to stop them and their continued (lack of action) on this front has been part of the problem," she said, according to Reuters.
U.S. intelligence shows a Russian claim that the attack was faked was false, Sanders said, adding, "Our intelligence tells us otherwise. I can't go beyond that."
The U.S. State Department similarly said the United States has proof at "a very high level of confidence" that the Syrian government carried out the attack but is still working to identify the mix of chemicals used.
In her remarks on Friday, Haley also blasted Moscow for continuing to prevent UN action against its ally, Syria.
She also said Friday's session of the Security Council "has been called under truly strange circumstances. The Russian Federation has asked us to discuss what it calls 'unilateral threats' related to Syria. What is strange is that Russia is ignoring the real threat to international peace and security that has brought us here. And it is ignoring its own unilateral responsibility for it."
"Who is it on the Council that most exhibits unilateralism when it comes to chemical weapons? It is Russia alone that has stopped at nothing to defend the Syrian regime's multiple uses of chemical weapons. It is Russia alone that killed the Joint Investigative Mechanism which allowed the world to ensure accountability for chemical weapons use in Syria. It is Russia alone that used its veto six times to prevent the condemnation of Assad's use of chemical weapons. It is Russia alone that used its veto 12 times to protect the Assad regime," she continued.
"That is the Russian record of unilateralism. It is a record that has led to the trashing of all international standards against the use of chemical weapons. This meeting should not be about the so called 'unilateral threats,' it should be about the multiple actions Russia has taken to bring us to this point."
Russia earlier this week vetoed a U.S.-drafted Security Council resolution that would have set up an investigation into chemical weapons use in Syria following an alleged toxic gas attack in rebel-held Douma.
It was the 12th time that Russia has used its veto power at the council to block action targeting its Syrian ally.
Earlier on Friday, the Russian Defense Ministry claimed that Britain staged the chemical attack in Douma, though it did not provide evidence of this.
(Arutz Sheva's North American desk is keeping you updated until the start of Shabbat in New York. The time posted automatically on all Arutz Sheva articles, however, is Israeli time.)