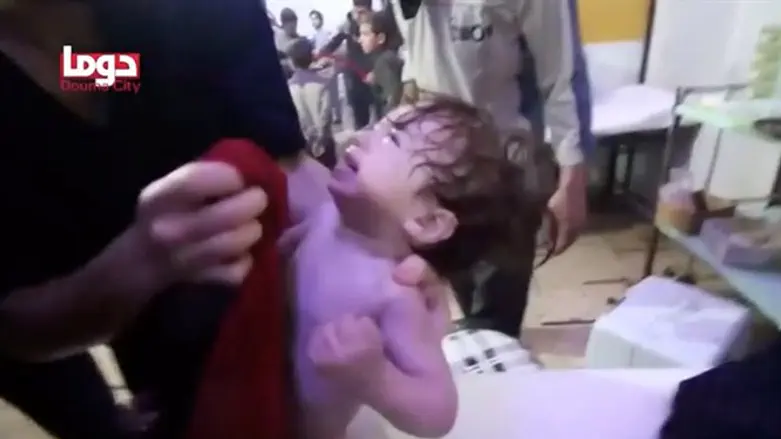 Douma baby receives treatment after chemical attack
Reuters
The Russian Defense Ministry on Friday claimed that Britain staged a fake chemical attack in the Syrian town of Douma last weekend, The Associated Press reported.
The attack in Douma last Saturday involved Syrian government warplanes, and according to monitoring groups, included the use of sarin nerve gas.
As many as 150 people were reported dead with 1,000 more injured from the suspected chemical weapon attack.
But Russian Defense Ministry spokesman Maj. Gen. Igor Konashenkov claimed on Friday that images of victims of the purported attack were fakes staged with "Britain's direct involvement."
The Russian official did not provide evidence of his claims.
Konashenkov released statements by medics from Douma's hospital, who said a group of people toting video cameras entered the hospital, shouting that its patients were struck with chemical weapons, dousing them with water and causing panic. The medics, however, said none of the patients had any symptoms of chemical poisoning, according to the statements.
Konashenkov then claimed that "powerful pressure from London was exerted on representatives of the so-called White Helmets to quickly stage the premeditated provocation." He added that the Russian military has proof of British involvement, but didn't immediately present it.
Russia earlier this week vetoed a U.S.-drafted Security Council resolution that would have set up an investigation into chemical weapons use in Syria following an alleged toxic gas attack in rebel-held Douma.
It was the 12th time that Russia has used its veto power at the council to block action targeting its Syrian ally.
The Russian claims come amid speculation that the United States, France and Britain could strike in Syria in response to the chemical weapons attack.
On Thursday, British cabinet ministers agreed "on the need to take action" in Syria to "deter the further use of chemical weapons".
Since the attack, U.S. President Donald Trump has sharpened his rhetoric against Syria and its most powerful ally Russia and issued a threat via Twitter of a potential U.S. strike against the war-torn country.
On Thursday, however, Trump appeared to backtrack and said that a U.S. missile strike on Syria may not be imminent.
"Never said when an attack on Syria would take place. Could be very soon or not so soon at all! In any event, the United States, under my Administration, has done a great job of ridding the region of ISIS. Where is our 'Thank you America?'" he tweeted.
(Arutz Sheva's North American desk is keeping you updated until the start of Shabbat in New York. The time posted automatically on all Arutz Sheva articles, however, is Israeli time.)