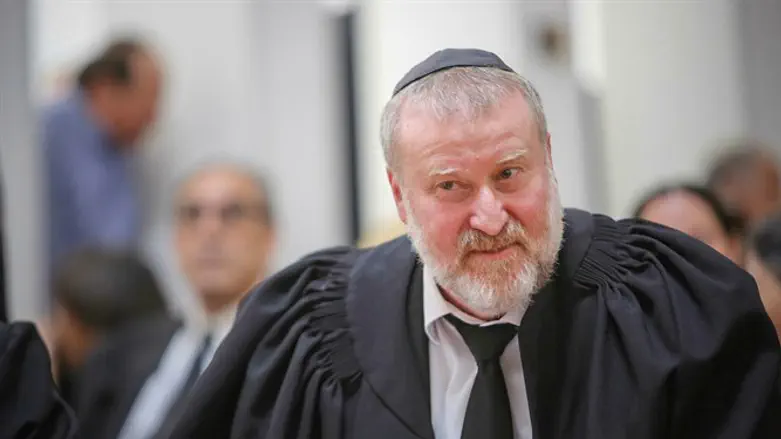 Avichai Mandelblit
Noam Moskowitz/POOL
Attorney General Avichai Mandelblit will on Sunday present his opposition to the Overrule Clause, that will allow the Knesset to re-enact laws that were previously rejected by the Supreme Court. Mandelblit will present his opinion on the matter before Prime Minister Binyamin Netanyahu and the heads of the coalition parties.
According to a report on Channel 10 News on Thursday evening, Mandelblit will explain that he is vehemently opposed to the implementation of the legislation on the grounds that it is undemocratic.
Mandelblit also objects to a proposal by the Jewish Home party that would require a small majority of 61 MKs to pass laws that were previously rejected by the Supreme Court.
According to the report, Mandelblit may support the Jewish Home initiative if it determines that a larger majority of MKs will be required to pass a law that had been rejected by the Supreme Court.
MK Bezalel Smotrich (Jewish Home) said in response that "Mandelblit is a good man who is clearly interested the good of the State of Israel, but he is wrong in this case."
"I call on the coalition leaders to listen to his words with due respect and seriousness, but to thank him, tell him that he is wrong, and move forward by restoring the right balances for the constitutional dialogue between the Knesset and the Supreme Court," Smotrich added.
In recent days, Minister of Education Naftali Bennett has called on Netanyahu to expedite the legislative process of the Overrule Clause.
"I declare clearly: We will support every version of the prime minister's Overrule Clause, just bring it in. It should be legislated before the opportunity passes, it could have been possible today or Sunday at the cabinet meeting," Bennett said on Wednesday.
"There is a law that is already ready for an immediate vote. In my experience, a few weeks' delay means that the opportunity is likely to be lost," he added.