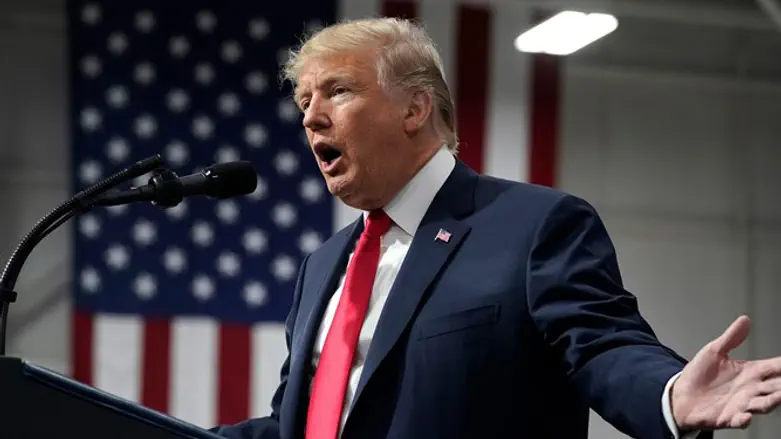 Donald Trump
Reuters
US President Donald Trump mocked the Russian government's threat to shoot down any US missile launched at the forces of its ally, Syrian President Bashar al Assad.
Trump wrote on his Twitter account Wednesday morning: "Russia vows to shoot down any and all missiles fired at Syria. Get ready Russia, because they will be coming, nice and new and "smart!" You shouldn't be partners with a Gas Killing Animal who kills his people and enjoys it!"
"Our relationship with Russia is worse now than it has ever been, and that includes the Cold War. There is no reason for this. Russia needs us to help with their economy, something that would be very easy to do, and we need all nations to work together. Stop the arms race?" he added.
Trump made his comments in response to Russian ambassador to Lebanon Alexander Zasypkin, who told the Hezbollah-owned al-Manar television station hat "if there is a US missile attack, we - in line with both Putin and Russia's chief of staff's remarks - will shoot down US rockets and even the sources that launched the missiles."
Tensions have run high since over 150 people were killed in an alleged chemical weapons attack in the city of Douma, east of Damascus, on Saturday night.
A day later, President Trump castigated the Syrian government and President Assad, calling the apparent chemical weapon attack "sick", and warning that the "Animal Assad" would have a "big price to pay" for the use of sarin nerve gas.
Trump, who had previously spoken of pulling US forces out of Syria, said he was weighing his response to the latest atrocity committed by the Assad regime.
On Tuesday, Assad's ally Russia vetoed a U.S.-drafted Security Council resolution that would have set up an investigation into chemical weapons use in Syria.
Russia's Foreign Ministry responded to Trump's threat and continued to defend Assad in a message posted on its Facebook page: "Smart missiles should fly towards terrorists, and not towards the lawful government which has been fighting international terrorism on its territory for several years."