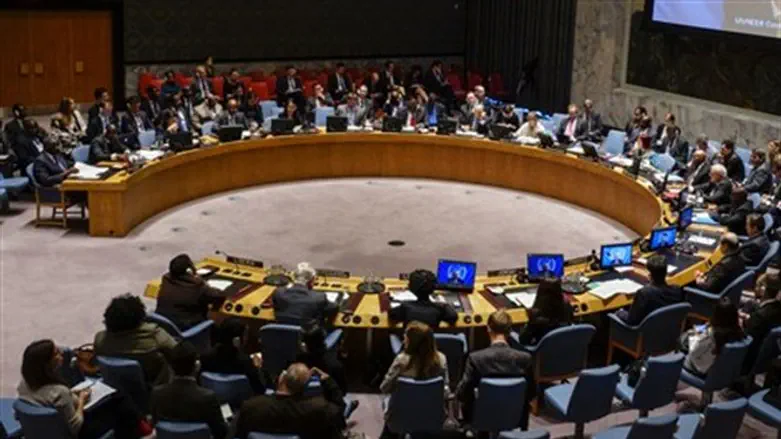 UN Security Council
Reuters
Russia on Tuesday vetoed a U.S.-drafted United Nations Security Council resolution that would have set up an investigation into chemical weapons use in Syria following an alleged toxic gas attack in rebel-held Douma, AFP reported.
It was the 12th time that Russia has used its veto power at the council to block action targeting its Syrian ally.
A rival measure put forward by Russia failed to garner enough votes for adoption, noted AFP.
The attack in Douma on Saturday involved Syrian government warplanes, and according to monitoring groups, included the use of sarin nerve gas.
As many as 150 people were reported dead with 1,000 more injured from the suspected chemical weapon attack.
On Sunday, U.S. officials said an initial assessment is that chemical weapons were indeed used in the attack, though they added that the details of the attack are still being evaluated.
U.S. President Donald Trump on Sunday warned the Syrian government it would pay a "big price" for the suspected chemical weapons attack.
Nikki Haley, the American ambassador to the UN, said on Monday that Washington "will respond" to the chemical weapons attack in Syria regardless of whether the Security Council acts or not.
Ahead of Tuesday's vote, Haley said "this resolution is the bare minimum that the council can do to respond to the attack" on Saturday.
Russian Ambassador Vassily Nebenzia accused the United States of "planting this resolution" as a "pretext" to justify action against Syria.
"We are using the veto in order to protect international rule of law, peace and security, to make sure that you do not drag the Security Council into your adventures," Nebenzia said.
12 of the 15 council members backed the measure, including France, Britain, African countries, Kazakhstan and Kuwait. Bolivia voted against the draft resolution, while China abstained.
The United States, France and Britain were among the seven countries that voted against the Russian proposal which they argued would not create an independent panel to investigate allegations of chemical weapons use.
China backed Russia's measure along with four other countries, while two others abstained.