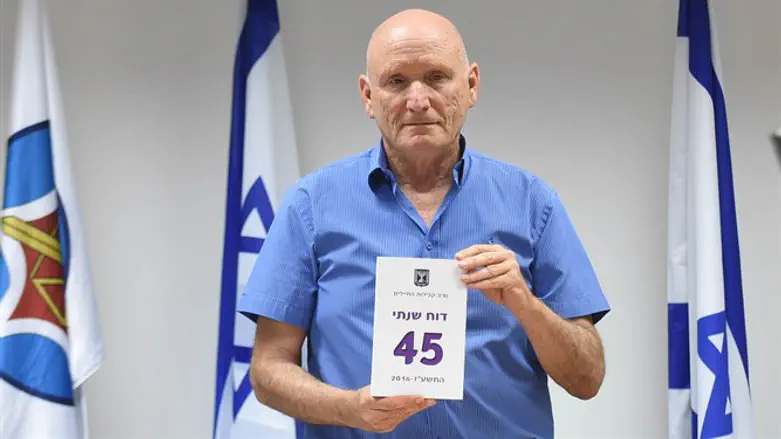 Yitzhak Barik
Eden Moldovsky, Defense Ministry
Israelis arriving for a personal interview at the IDF's draft office may not be asked for their opinions on female combat soldiers or the LGBT movement, IDF Ombudsman Major-General Yizhak Barik (Res.) told the IDF's Meitav Unit (Reception and Sorting Base).
Barik's announcement follows a soldier's complaint that he was asked questions on his religious views, including on controversial topics, during the intake interview.
The youth told Barik that he had been "marked" by the IDF due to his religiosity, and asked specific questions on those topics during a personal interview.
Barik responded that "no sector of the population is 'marked' during their first visit to the Draft Office. The Sorting Unit looks objectively at each new recruit, and each is examined based on his lifestyle, his unique qualities, and his personality."
"Questions on religion and faith are not an obligatory part of the interview, but they may come up from time to time as things are discussed in the interview, just like other things may come up such as personal status, family status, personal issues, and so on."
He also admitted that in unusual cases, when there is a concern of an ideological issue which would influence a person's ability to properly serve, initial investigations of sensitive issues may begin in the personal interview, in order to examine how much the interviewee is influenced by those issues.
"This investigation does not harm or influence the recruit's qualities or other factors, such as his test score or academic and psychological fitness," he emphasized. "It aims to help the recruit."
Regarding the question on female combat soldiers, Barik said, "That question was in the part of the test which tests Hebrew writing, and soldiers' opinions are not noted or otherwise written down."