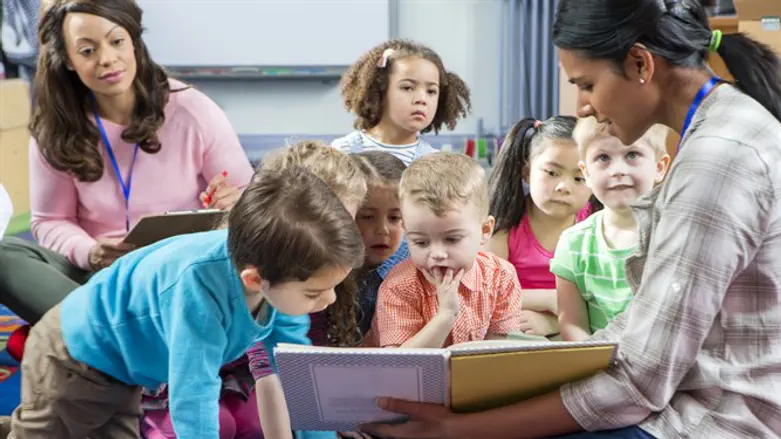 Preschool
iStock
Israel's association of preschool teachers called on preschool teachers not to teach preschoolers about the Holocaust.
"Teaching three-to six-year-olds about the Holocaust, year after year, harms them and causes damage and trauma," Preschool Teachers Educate Chairwoman Dorit Hazan said. "It definitely does not teach them any understanding or values."
"I have no doubt that we need to pass on the knowledge of the Holocaust, but we absolutely should not do it during the preschool years. We can and should wait to teach Holocaust studies at a later stage. There are those who think we can explain the topic in preschool, and demand preschool teachers use their heads and find a way to give over the information. But years in preschool education have taught me that there is no way, and no reason, to do this at all.
"We, the preschool teachers, are in the classrooms, and we see the inability to understand the enormity of the tragedy, and the fear unnecessary exposure to the topic sows in children. If it is difficult for adults to grasp the enormity of the horrors and evil, how much more so is it for children, who do not yet understand mourning, loss, and bereavement. We make the stories of Hanukkah, Purim, and Passover sound nicer, and we focus on the good, on the pictures, on the symbols, because we understand that the children cannot grasp the tragedy."
However, when it comes to the Holocaust, Hazan explained that, "The chance that a child will develop trauma is so high that we prefer to skip the bad and leave their thoughts and minds innocent."
"If a child asks a question, we should answer, but we should not initiate a discussion on the subject," she explained.
The late Holocaust survivor Ori Hanoch served as part of the management of the Center of Organizations of Holocaust Survivors in Israel. During his tenure, he said that "it makes his blood boil" and asked why children under 12 were taught about the Holocaust at all.
"This just makes my blood boil," he said then. "Why do we need to talk about this topic with preschool children, with children in first or second grade? We can't wait until they're 12? It's completely unthinkable, it's not even up for discussion. It hurts me."
"At the end of the day, no one but a Holocaust survivor knows how to speak about this to children. How much can we dumb down the story? I think that for these ages, it's not necessary. If a child asks, we have an opportunity to give a short answer, avoiding the issue. But it shouldn't be an obligatory curriculum."