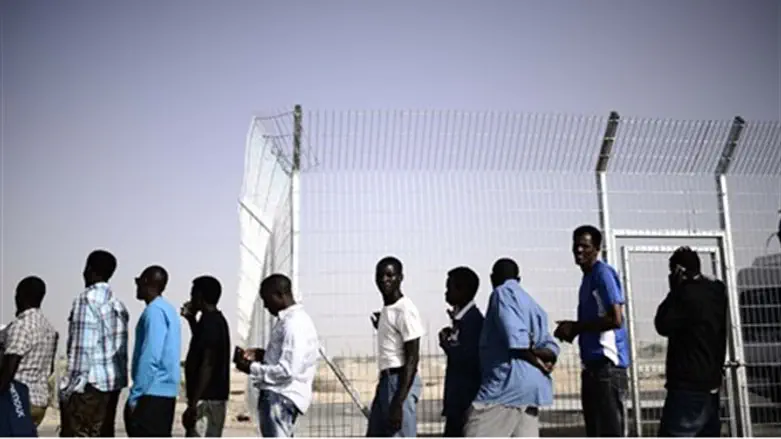 Infiltrators.
Tomer Neuberg, Flash 90
NGOs, some of whom receive financial support from the New Israel Fund, sent a letter to the government of Rwanda, asking it not to accept illegals who had infiltrated Israel.
The revelation came to light following the Prime Minister's cancellation on Tuesday of a deal with the United Nations High Commissioner for Refugees which would have "facilitated the departure" of 16,250 infiltrators to Western countries while granting legal status to another 16,250.
Following opposition to the plan from coalition partners and activists working on behalf of residents in southern Tel Aviv, where most of the infiltrators to Israel have been living, Netanyahu announced the plan's suspension on Monday evening.
In explaining his decision, Netanyahu pointed a finger at US-based funding organization The New Israel Fund (NIF), asserting that the poorly-received deal with the UN had resulted from the failure of a prior infiltrator-deportation agreement with Rwanda, which the PM said had backed out due to NIF pressure.
"In recent weeks, as a result of the tremendous pressure placed on Rwanda by the New Israel Fund and elements in the European Union, Rwanda has withdrawn from the agreement and has refused to absorb infiltrators from Israel who were forcibly deported," he said.
Netanyahu ultimately cancelled the agreement with the UN the next day, subsequently announcing that he had established a parliamentary commission of inquiry against the NIF.
"The New Israel Fund is a foreign organization that receives funding from foreign governments and elements hostile to Israel, such as from the fund of George Soros. The ultimate objective of the fund is to erase Israel's Jewish character and turn it into a state of all its citizens, alongside a Palestinian nation-state that is free of Jews on the 1967 lines with Jerusalem as its capital," Netanyahu accused.
Despite Netanyahu's accusations, the NIF denied having pressured Rwanda to back out of the deportation agreement.
"The New Israel Fund did not pressure the Rwandan government to refuse to participate in Netanyahu's cruel mass deportation plan," NIF CEO Daniel Sokatch said in a statement released on Tuesday. "We did support massive numbers of Israelis standing up for what is right and demanding action from their own government."
"This isn't about NIF. It's about all of us - everyone who cares about democracy and equality in Israel. It's time for everyone who cares about Israeli democracy to stand up and stand together against this blatant assault on Israeli civil society from an increasingly desperate and flailing PM."
On Wednesday, Rwandan minister Olivier Nduhungirehe denied that the New Israel Fund had pressured Rwanda, asserting that Rwanda "didn't even know what this New Israel Fund is all about."
"I am extremely surprised by [Netanyahu's statements about the influence of the New Israel Fund]. My surprise comes less from the fact that Rwanda doesn't even know what this New Israel Fund is all about, but more from the assumption that a foreign NGO can successfully impose any pressure on a sovereign government named [Rwanda]," he tweeted.
However, although it was not sent by the NIF itself, Arutz Sheva saw a letter addressed to Rwandan President Paul Kagame by seven Israeli NGOs - five of which have received funding from The New Israel Fund. In the letter, first printed in The Rwandan in November and also reported on by The Jewish Press, the NGOs call on the Rwandan leader not to accept infiltrators from Israel.
"His Excellency Paul Kagame, President of the Republic of Rwanda,
We are turning to you, and to the people of Rwanda, with an urgent request.
Rwanda and Israel have an ongoing special relationship. However, this relationship cannot include trading in African lives.
Israeli Prime Minister Benjamin Netanyahu is telling the Israeli public that Rwanda has agreed to take on African refugees from Israel. Prime Minister Netanyahu says that the refugees will be forced to leave: if they do not agree to go to Rwanda, they will be put in prison forever.
We trust in you, and the people of Rwanda, that you will not agree to this denial of liberty. We hope and trust you will not agree that African refugees are caged and traded in this way.
We call on you to make it clear to Prime Minister Netanyahu – Rwanda will not take refugees who do not come of their own free will.
We urge you to use your friendship with Netanyahu to remind him – Israel is a country of refugees, it should open its heart to those who have fled Eritrea and Sudan and give them shelter."
[Signed] ASSAF-Aid Organization for Refugees and Asylum Seekers in Israel
The Association for Civil Rights in Israel
Physicians for Human Rights -Israel
Hotline for Refugees and Migrants
Amnesty International Israel
Kav La'Oved – Workers' Hotline
HIAS Israel