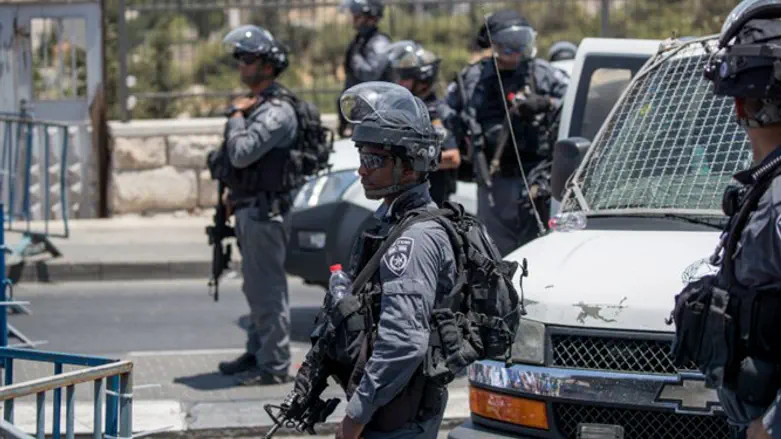 Guards in Jerusalem
Yonatan Sindel/Flash90
Activists from the 'Students for the Temple Mount' organization set up a mock checkpoint near the entrance to the Western Wall Sunday morning and pretended to be security guards who would check to ensure that Jewish visitors to the Western Wall do not have any religious items, such as prayer books and tefillin, just as Jewish visitors to the Temple Mount are searched by real security personnel.
In addition, the activists posted a sign by the entrance to the Western Wall listing the many restrictions placed on Jews at the Temple Mount.
The organization explained to the TPS news organization: "The purpose of the act was to convey to the [Jewish] people, who unfortunately still see the Western Wall [rather than the Temple Mount] as its true holy place, a partial picture of the absurdity and hurt feelings experienced by Jews in the actual holiest place a few meters away, and especially on the Passover holiday, whose main interest is to ascend the Temple Mount and the Holy Temple."
"Jews who ascend the mount are subject to meticulous scrutiny and humiliating briefings, which prohibit the carrying of sacred articles, the saying of prayers, greetings, wearing a star of David, and having symbols of the State of Israel.
"Just as no one imagines that such restrictions would be imposed at the Western Wall and elsewhere, all the more-so they should not exist on the Temple Mount. As we have seen, as soon as the reality [of the treatment of Jews] on the Temple Mount was revealed at the Western Wall, the absurdity is revealed to all. We will continue to raise awareness and will not stop until we can ascend the Temple Mount as free men."