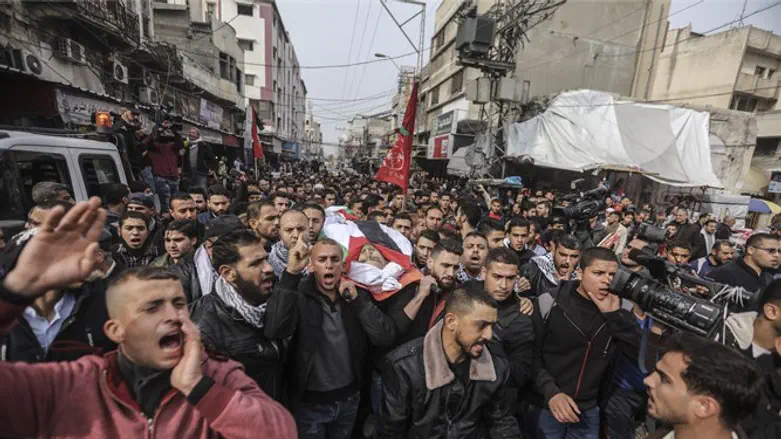 Funerals of Hamas terrorists in Gaza
Flash 90
Hamas leader Ismail Haniyeh says that Friday's violent protests on the Gaza border are just the beginning of a mass movement that would lead to "the return to all of Palestine".
Speaking with the Hamas publication Al-Risala, Haniyeh said that Friday's mass protest that left 17 Gazans dead, including 10 terrorists, "changed the balance of power and the rules of the political game and opened the way for the return to the land of Palestine."
Haniyeh's remarks echoed sentiments he said at the march itself. According to the Hamas leader, "we are here to declare today that our people will not agree to keep the 'right of return' only as a slogan".
Haniyeh added that the march "proves to U.S. President Donald Trump, his [peace] deal and everyone who stands with it that there will be no concession on Jerusalem, no alternative to Palestine and no solution but [the right of] return".
Other Hamas leaders vowed that the Friday's violence was only the beginning, warning that Israel can expect similar scenes for weeks to come. Hamas' Gaza leader Yahya Sinwar said that the 'March of Return' is "a new phase in the Palestinian national struggle on the road to liberation".
"The March of Return will continue until we remove this temporary border" added Sinwar.
Over 30,000 people took part in Friday's riot, the IDF has confirmed. Protesters burned tires and threw firebombs and rocks at the border and at IDF forces.
Hamas terrorists killed in border riot
Prime Minister's Office