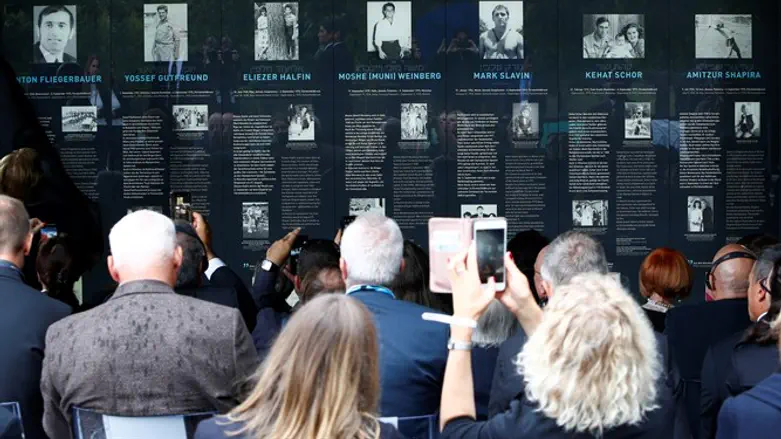 Memorial for victims of the Munich massacre
Reuters
Ammar Campa-Najjar, 29, is a Democrat running for the US House of Representatives in the 2018 election to represent California's 50th congressional district.
A Channel 10 reporter in Washington told Campa-Najjar's story, and how he distanced himself from his grandfather's viewpoint.
"My father's parents were killed when he was eleven, so he was a target for enlistment into terror," Campa-Najjar said. "I'm a Christian, he's a Muslim. Because of his religion, he rejected extremism. And he chose America."
His grandfather was none other than Muhammad Youssef al-Najjar, otherwise known as Abu Youssef, who was an operational commander in the Black September terror group, and one of the masterminds behind the Munich massacre, which left eleven Israeli athletes and coaches dead.
Youssef al-Najjar also served as a Fatah leader and Lebanon, and from there advanced to the head of Fatah's internal intelligence team. He eventually became an aide to arch-terrorist Yasser Arafat.
Campa-Najjar's father, Yasser, watched his own father's elimination at the age of eleven. Afterwards, Yasser was "adopted" by the king of Morocco. He moved to Egypt, later immigrating to the US in order to study. It was there that he met his wife, a woman of Latin origin. His son Ammar was born in the US.
"I'm half Arab, half Latino, but I'm 100% American," Campa-Najjar said.
After the Oslo Accords, Campa-Najjar's father moved to Gaza to serve as an official in the Palestinian Authority.
"I was born in the US, and I grew up in Gaza. I came here before the attack on the Twin Towers. I left a war zone in order to come to another war zone. And then people starting persecuting Arabs," Campa-Najjar said.
When he meets Jewish audiences from his district, he immediately emphasizes that he opposes his father's choice of terrorism, and supports a two-state solution. Channel 10 added that Campa-Najjar has already collected significantly more funding than his competitors, mostly from small donations, by turning his background story into an advantage, instead of a disadvantage.