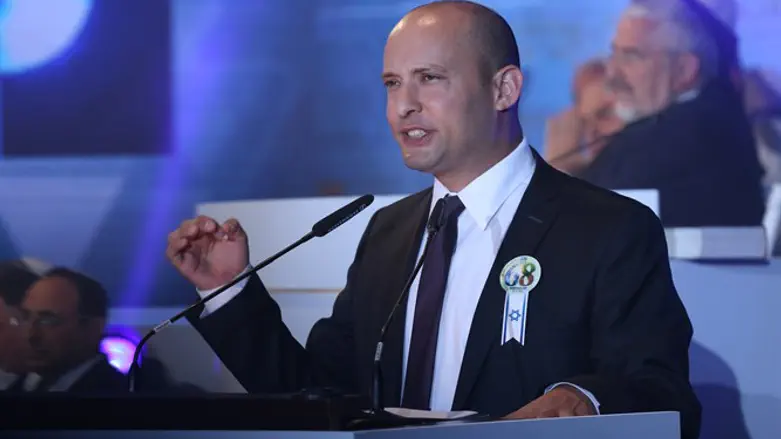 Naftali Bennett
Shlomi Cohen/Flash 90
Education Minister Naftali Bennett told Prime Minister Binyamin Netanyahu that he can be the keynote speaker at the Israel Prize ceremony instead of Bennett, if the premier agrees not to speak at the official torch lighting event on the eve of Independence Day.
The Israel Prize ceremony has traditionally featured the education minister as the main speaker, with the prime minister sitting on the dais along with the president and other dignitaries.
In a letter to Netanyahu, Bennett wrote that "especially on the 70th anniversary of the State of Israel, we must hold Independence Day celebrations as a unifying event rather than a dividing one, which will leave joy and pride in the hearts of the people. I call upon you to accept this proposal, in order to allow the celebrations to take place in the spirit of unity and statesmanship so that we will all go on Passover without any controversy clouding the holiday atmosphere."
Bennett added that "as the Israel Prize ceremony is a premier state event, where the winners express the best of Israeli society, I view this as a fitting proposal that honors the prime minister, as well as a proper solution to the controversy that has arisen."
Knesset Speaker Yuli Edelstein had told Netanyahu that he and the Knesset would boycott the official torch lighting event if Netanyahu insists on speaking. Edelstein is upset that Netanyahu is breaking tradition, that the Knesset Speaker is the main speaker in order to represent the unity of the people which the Knesset represents.
Should Edelstein carry out his threat and boycott the official torch lighting ceremony, it would mean that all other MKs would be absent as well, in addition to the official Knesset band and Knesset honor guard.
"The torch-lighting ceremony belongs to all citizens of the State of Israel and therefore the Knesset, which represents all parts of Israeli society, is the only authority that can express that," Edelstein said. "That has been the custom since the state was established."