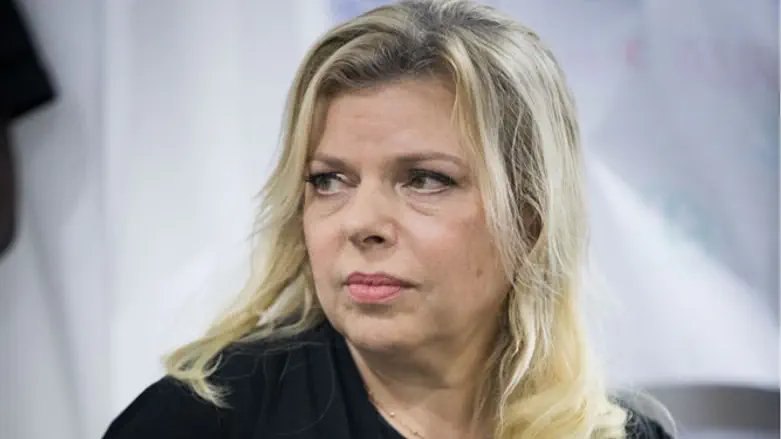 Sarah Netanyahu
Yonatan Sindel/Flash 90
Attorney Yossi Cohen on Wednesday filed a complaint with the Police Internal Investigations Department on behalf of Sarah Netanyahu and Yair Netanyahu, wife and son of Prime Minister Binyamin Netanyahu.
In the complaint, Cohen asks that "tendentious and false leaks from the investigations to the media" be investigated.
The lawyer alleges that hours after they were interrogated at the offices of the Lahav 433 unit of the Israel Police, details of the investigations of both Sarah and Yair Netanyahu, which could be known only to the interrogators, were published. "Immediately after the interrogation ended, an orchestrated which hunt centered around their interrogation began in the media," the complaint states.
It lists examples of facts that were known only to investigators. "The fact that Yair Netanyahu was questioned by the Securities Authority, the nature of the suspicions against him, etc."
Cohen also complains about the conduct of the Police Commissioner, writing, "In [Sarah Netanyahu's] previous investigation, it was leaked that she was being investigated under warning, and the Police Commissioner pointed an accusing finger at Sarah Netanyahu, claiming that the leak was made by her during a break in her interrogation and after police investigators warned her at the start of her interrogation. This is ridiculous. The fact that she is about to be interrogated under warning was published four days before the date of her interrogation."
Sarah and Yair Netanyahu ask the Internal Investigations Department "to investigate the offenses committed and to look into who leaked the false information that found its way to the media."
Lahav 433 is known as "Israel's FBI" and is currently charged with investigating Netanyahu in the cases known colloquially as "Case 1000", "Case 2000", and "Case 4000".
While Lahav 433 is considered the Israel Police's most elite investigative unit, it has suffered a long string of embarrassing incidents. In February last year, former unit commander Menashe Arbiv was convicted for failing to report to his superiors that he had been offered a bribe by Rabbi Yoshiyahu Pinto, a popular rabbi who eventually served a one-year jail sentence in 2017 for his effort to bribe police Brigadier General Ephraim Bracha.
Arbiv was suspected of receiving illicit benefits for years from Pinto in exchange for information about a police investigation into Pinto's charity.