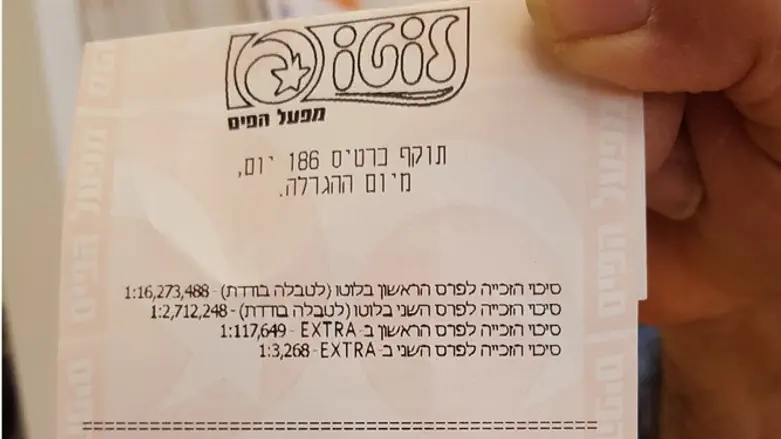 The winning ticket
Avi Chaim
A 70-year-old Herzliya resident won NIS 13 million in the lottery after choosing for his winning number the date on which his father died.
The Lottery draw held last Saturday night resulted in two winners who will share the first prize, NIS 13 million each.
This morning one of the winners came to the Mifal Hapayis lottery office to claim the prize. The 70-year-old from Herzliya, one of the two winners, said he sent in a lottery ticket for NIS 17.40 after he dreamed of his father.
"In the last few years of my parents' lives, I devoted my time to dine them until they passed away, and my father came to me in a dream and told me that I would win the lottery if I wrote in the date of his death."
He filled in the form based on the date of his father's death - August 22, 2005. He expressed the year 2005 with the first digit 2, the last digit 5 and the number 20. The number 8 is the month of death and the number 22 is the day of death. In addition, the winner added the number 28, as a combination of the day and the month of his father's passing together.
The winner said that with the money he would buy a new apartment and the rest would be left for his pension and grandchildren. "When they ask me at the Passover seder, 'Why is this night different from all other nights?' I'll tell them that Grandfather is a millionaire." Before leaving Mifal Hapayis the winner added that about a decade ago he won NIS 700,000 in Toto, Israel's sports betting board, so that perhaps by the time he reaches 120 years old he can win more prizes.