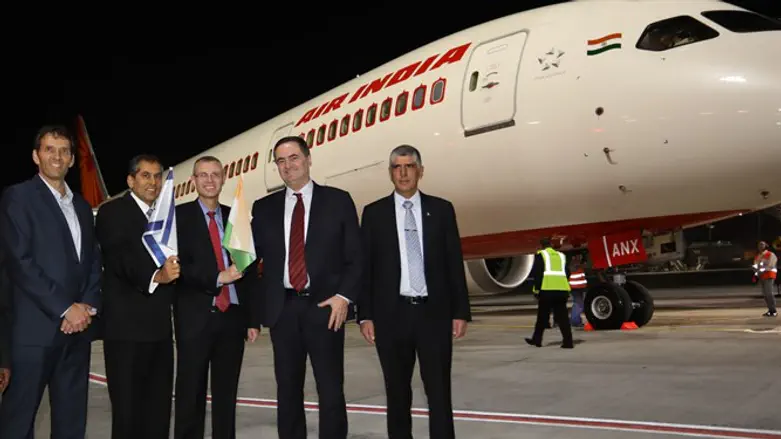 Air India flight welcomed at Ben-Gurion Airport
Chen Galili
Air India on Thursday launched the first scheduled service to Israel to be allowed to cross Saudi airspace.
Flight AI 139 landed at Tel Aviv's Ben Gurion airport about 30 minutes after its scheduled arrival time of 1945 GMT.
Photo: Air India
"This is a historic moment," Transportation Minister Yisrael Katz (Likud) told AFP on the tarmac as the Boeing Dreamliner rolled to a halt.
"It is the first time that there is an official connection between the state of Israel and Saudi Arabia," he said in Hebrew.
Tourism Minister Yariv Levin (Likud) was also there to welcome the flight.
"A new era has begun," he said.
There will now be three flights weekly in each direction, ending a decades-long Saudi ban on the use of its airspace for commercial flights to Israel.
In light of the fact that the flight passes over Saudi Arabia, it takes about seven hours - the shortest direct flight time between India and Israel.
The route will operate on Sundays, Tuesdays and Thursdays. All flights on the route will be carried out on the Boeing 787's new and advanced 787 "Dreamliner", which contains 256 seats in business class and tourist class.
Israel's national carrier El Al currently operates an India service to Mumbai that takes a detour over the Red Sea to avoid flying over Saudi Arabia and Iran.
As Saudi Arabia officially does not recognize the Jewish state, all planes flying to and from Israel were banned from flying through Saudi Arabian airspace, adding hours to each flight from Asia and increasing fuel costs.
The new route was announced by Indian Prime Minister Narendra Modi last July, with Prime Minister Binyamin Netanyahu first suggesting in January the route could pass over Saudi Arabia.
Air India confirmed last week it had received permission to fly over Saudi Arabia during flights between Tel Aviv and New Delhi.
Netanyahu told reporters in Washington earlier this month that Air India had reached an agreement with Saudi Arabia for the route.
The move is believed to reflect growing ties between Israel and Saudi Arabia, although Saudi officials have repeatedly denied any ties with Israel.
Israeli analyst Jonathan Spyer said that the Saudi concession showed that positive signals were being sent despite the lack of an Israeli-Palestinian peace treaty, long seen as a prerequisite for relations between the Jewish state and the Arab world.
"I think that what this shows is even in the absence of that you can have small gestures that are of real meaning," Spyer, director of Israel's Rubin Centre for Research in International Affairs, told AFP.
"That's what I think that this Saudi decision to allow the overflights consists of. It's small but significant," he added.