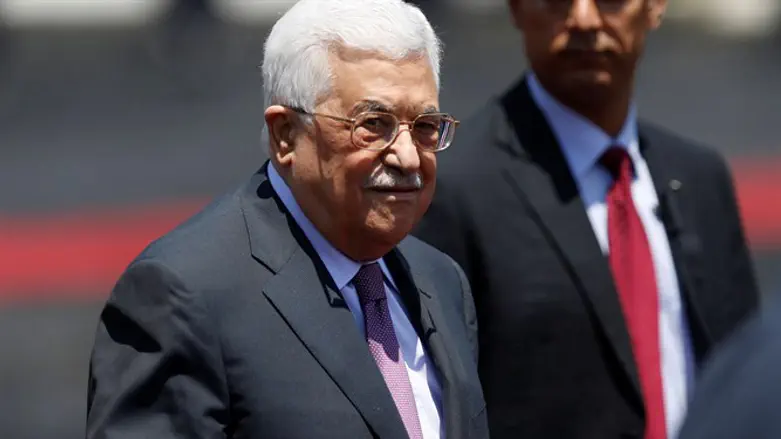 Mahmoud Abbas
Reuters
Ahmad Bahar, the deputy speaker of the Palestinian Legislative Council and one of the leaders of the Hamas terrorist organization, on Wednesday accused Palestinian Authority (PA) chairman Mahmoud Abbas of an improper takeover of power and said he had lost the legal validity to his status as leader.
"Abbas's term in office ended in 2009 and therefore he has lost the legal and constitutional basis and is considered to be stealing power which is illegal and unconstitutional," said Bahar in an interview with the Hamas-affiliated Felesteen newspaper.
He added that the Palestinian Authority was striving to gain control of the weapons of the "resistance organizations" in Gaza, but this move is impossible to implement.
Bahar expressed his opposition to the upcoming meeting of the Palestinian National Council (PNC) under Abbas's orders, claiming that the April 30 meeting is "illegal."
The Palestinian National Council serves as the parliament of the Palestine Liberation Organization (PLO). Hamas demands that general elections be held for the PLO institutions as a condition for reconciliation with Fatah and the Palestinian Authority.
The Felesteen newspaper launched an all-out offensive against Abbas on Wednesday, with the newspaper's headline dealing with the call by Palestinian Arab organizations to delegitimize his regime as the "president" of the Palestinian Authority.
Hamas and Abbas's Fatah faction have been at odds since 2007, when Hamas took over Gaza in a bloody coup.
The two groups signed a reconciliation agreement in October, as part of which Hamas was to transfer power in Gaza by December 1. That deadline was initially put back by 10 days and then appeared to have been cancelled altogether after it reportedly hit "obstacles".
Tensions between the sides have increased in recent days, following a bomb attack on the convoy of PA cabinet leader Rami Hamdallah during his visit to Gaza.
Abbas directly blamed Hamas for the bomb attack. Hamas, in response, accused the PA chairman of trying to cause chaos in the region.