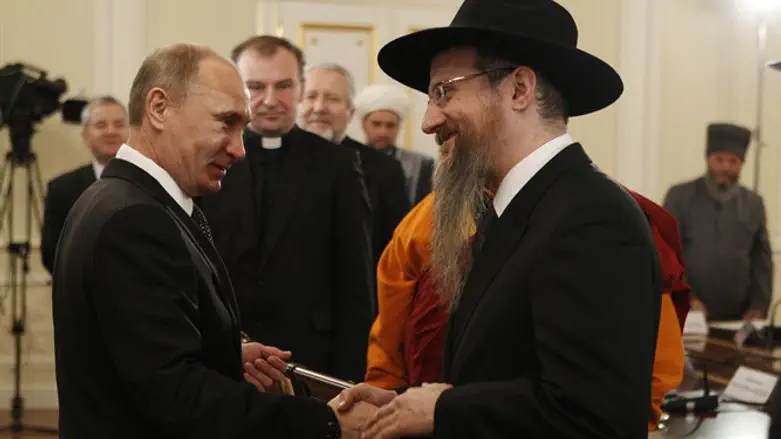 Vladimir Putin shakes hands with Rabbi Berel Lazar
Reuters
Chabad emissary to Moscow Rabbi Shea Deitsch, who serves as an aide to Russian Chief Rabbi Berel Lazar, spoke on Monday about Russian President Vladimir Putin's re-election and told Arutz Sheva that Putin is responsible for the fact that anti-Semitism is almost nonexistent in Russia.
"I told my children that in these elections, we fulfill the mitzvah of showing gratitude," Rabbi Deitsch said. "That was my feeling, my wife's feeling, and my children's feeling. Putin did great...things for Judaism and Chabad. Here in Moscow, there are things which were absent for hundreds of years."
"Jews wear a talit (prayer shawl) and kippa (skullcap) openly. This Shabbat (Sabbath), I had Israeli guests wearing a shtreimel (hasidic fur hat) in the street. Jews in Russia receive a lot of respect, and it starts from the top, from Putin, and ends with the media, government offices, and banks."
Like many others, Deistch was not surprised by the results of the elections.
"We were happy that it ended in a landslide victory, and that this is what the Russian nation wants," he said. "If we compare Russia to other European nations, Russia is better for Jews than other countries, and here, no one makes fun of Jews."
"On the main street here, you can see a two-story store selling matzot (unleavened bread) for the holiday, and beside it a huge mannequin of a Jewish child holding matzot. President Putin has a friendly relationship with Russian Chief Rabbi Berel Lazar, they take pictures together and participate in joint events.
"Every year before Pesach (Passover) we receive a holiday letter from President Putin. Last Hanukkah, we held a candle-lighting ceremony in the Red Square. So Jews here are very happy with Putin," he concluded.