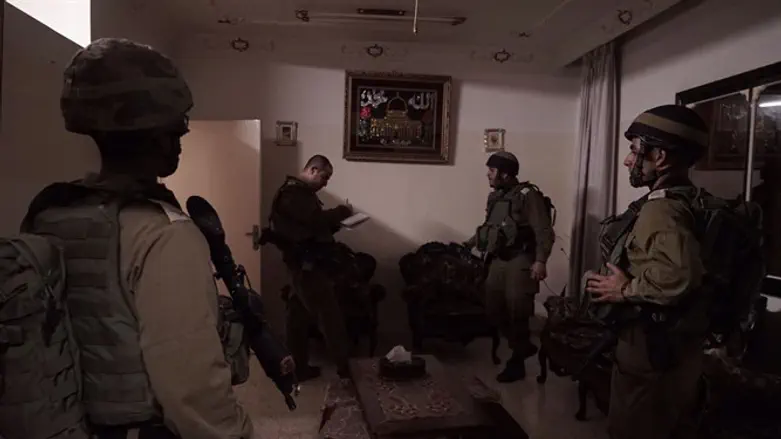 IDF forces in terrorist's house
IDF Spokesperson
An IDF engineering unit mapped out the house of the terrorist responsible for Sunday's deadly stabbing attack overnight, the first step towards the home's demolition.
On Sunday, 28-year-old Abed al-Rahman Bani Fa'adal, a resident of the Palestinian Authority-controlled town of Aqraba, near Shechem [Nabulus] in Samaria, murdered 32-year-old Adiel Kolman in a stabbing attack on Hagai Street in the Old City of Jerusalem.
Kolman, a married father of four, was a resident of the town of Kochav Hashahar in Samaria.
The terrorist had been issued an entry permit by Israeli authorities, allowing him to enter sovereign Israeli territory to look for work.
Shortly after the attack, police shot and killed the terrorist near the Lion's Gate in the Old City.
In an overnight operation, IDF forces entered the PA-controlled town of Aqraba near Shechem in Samaria, accompanied by Border Police officers and Shin Ben internal security agency officials.
Israeli security forces detained Fa'adal's relatives for questioning in connection with Sunday's murder, while an IDF engineering unit mapped out the Fa'adal home in preparation for its demolition.
Sunday's attack comes just days after an Arab terrorist ran down and killed two Israeli soldiers in northern Samaria, and injured two more. The murdered soldiers were identified as Captain Ziv Deus, 21, from the Azor Regional Council, and Sergeant Netanal Kahalani, 20, from the town of Eliakim.