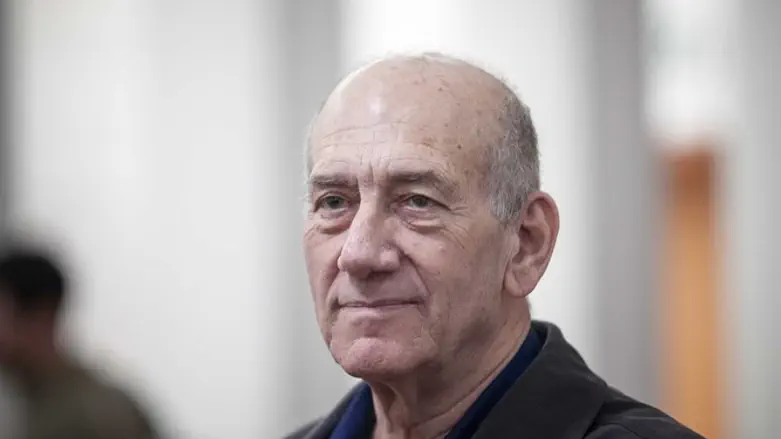 Ehud Olmert
Noam Moskowitz/POOL/Flash 90
The father of Gilad Shalit, who spent five years in captivity after being captured in a Hamas terror attack in 2006, slammed former Prime Minister Ehud Olmert for blaming his son for the Hamas kidnapping and dismissed Olmert's claim that then-Defense Minister Ehud Barak had inadvertently torpedoed a deal to free Gilad from captivity.
Gilad Shalit was kidnapped during a Hamas terror attack across the Gaza border into Israel. The captured soldier was released in 2011, in exchange for over 1,000 terrorists being held by Israel. During an interview that was broadcast on Saturday night, Olmert claimed that he had agreed to a prisoner swap with Hamas that would have brought the captured soldier home, only to be thwarted by a public visit by Barak to Shalit's family that caused Hamas to harden their demands.
"This is not the first time and probably not the last time that Olmert has tried to rewrite history," Noam Shalit told Hadashot 2.
"Olmert's claim that he had a better deal to free Shalit but did not succumb to the demands is baseless," continued Shalit. "Unfortunately, Olmert forgets to mention that for almost three years in office, on his watch, he and the system under his leadership failed to create any leverage."
"This is a group of several dozen Hamas members who held an Israeli soldier captive a few hundred meters from the Israeli border," added Shalit.
Noam Shalit also attacked Olmert for blaming his son for letting himself be kidnapped by Hamas. "Former Prime Minister Olmert chooses to come back and attack a combat soldier whose squad was surprised and attacked by Hamas from a terror tunnel, which was the first of its kind in the vicinity, as a result of a series of systematic failures."
"We never said that Gilad is a hero or not a hero but let's look at the incident. How would Olmert act in his place when his tank is attacked by a tunnel from behind?" asked Shalit. "Olmert failed throughout his term and his claim that he had a better deal is incorrect."
Shalit, who was kidnapped by Hamas terrorists in June of 2006 during a patrol just outside Gaza, was dragged back to Gaza and held captive for more than five years. During that period, Noam Shalit led a visible campaign pressuring the government to reach a deal that would free his son.
An IDF investigation into the kidnapping revealed that Shalit had not paid attention to the briefing before the patrol, did not open fire at the terrorists, and was unaware of the fact that there were other soldiers in the area because he had not listened carefully to the briefing. Olmert had bashed Gilad, alleging that he had abandoned his comrades due to his own negligence.
"Shalit is alive and two of his comrades are buried in the ground. He watched television, playing the World Cup. Gilad Shalit is neither a hero nor a personal example - no fighting, no courage, no sacrifice," Olmert said.
Olmert has been conducting a series of interviews over the past few days in order to promote his new book. In the aforementioned interview, Olmert accused Ehud Barak of scuttling a deal to free Shalit when he visited a protest tent set up by the Shalit family.
"In those days there was a protest tent run by the Shalit family... on that decisive day, [Shin Bet Chief] Yuval Diskin is in Cairo and Ehud Barak goes to the Shalit tent, and then the Shin Bet calls me and says, 'We're not going to have a deal'" Olmert recounted. "He said, 'I have absolute knowledge that they said if Barak came to the protest tent, then Israel can be pressured, we will remain stubborn and we won't make the deal."