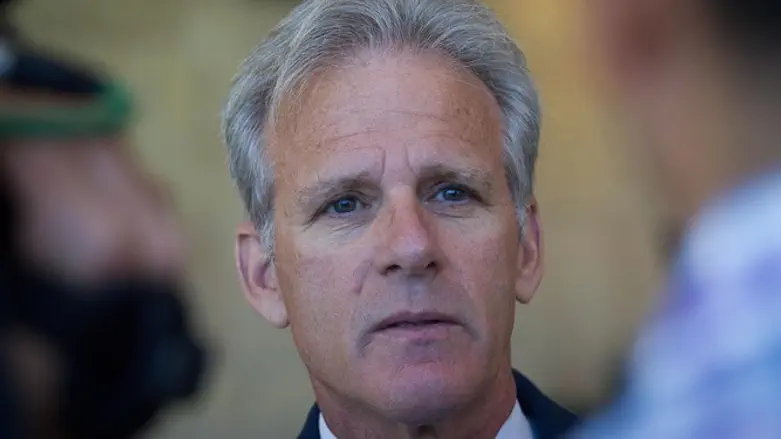 Michael Oren
Miriam Alster/Flash 90
On Wednesday, State Comptroller Yosef Shapira released a report criticizing Israel's treatment of demobilized lone soldiers. Shapira found that while the IDF is generally responsive to the needs of the estimated 6,000 soldiers who do not live with their parents, there were severe shortcomings with assisting lone soldiers upon their discharge.
"There does not exist a comprehensive, inter-agency program that defines the goals of the country regarding the integration of veteran lone soldiers, without family support, in Israeli society," read the report. "After their release from the military service, Israeli society faces a national mission to facilitate the integration of these lone soldiers into the civilian sphere."
The report recommended that "interministerial national staff work, led by the director-general of the Defense Ministry, be held in order to advance a strategic plan aimed at absorbing lone soldiers in society after their release."
The report was welcomed by Deputy Minister Michael Oren (Kulanu). Himself a former lone soldier in an elite reconnaissance unit, Oren founded the Lone Soldiers Lobby in the Knesset in 2016. He contends that while immigrant lone soldiers get the lion's share of attention, it is the Israeli lone soldiers, who often come from low socio-economic backgrounds, that are most often overlooked.
"The majority of lone soldiers are those who have family here, they are Israelis, but they do not get support from their families," Oren told Arutz Sheva. "The gap is what is being done for them."
"While a great number of services are being given to Olim Chadashim, very few services are being given to Israeli lone soldiers, who can leave a base for Shabbat without even knowing where they are going to sleep, and can literally fall through the cracks and get involved in drug abuse and prostitution - all sorts of terrible problems."
Oren noted that an overwhelming percentage of Israeli lone soldiers come from haredi backgrounds, contending that the real challenge they face is not while serving in the IDF, but upon release, when they attempt to build their lives with very few resources available.
"Many of them have a second-grade education and don't speak any English. How are they going to find a job?" asked Oren, who blamed bureaucracy and an unclear division of responsibility among government agencies for the lack of support available to lone soldiers upon their release.
"The bigger problem is post-army," Oren said. "When you're in the army, you have food and you have a roof over your head….all of a sudden you are released and you don't know where to go, and who is responsible for them? Is it the Defense Ministry? Is it the IDF? The Welfare Ministry? What is it?"
Oren said that the situation has grown dire, and he has not seen any real improvement on the issue. He calls for a new inter-ministry agency to be established to deal solely with Israeli lone soldiers.
"There's been minimal progress on this," said Oren. "It can't be an NGO [responsible for this]. You're talking about thousands of kids a year who are being discharged. These are thousands of kids who have been trained, who can be productive citizens of the country, but we are not taking care of them."
"You have to actually an office that deals with this. It should be in the Prime Minister's Office, and you have to determine who is responsible. I think it has to be inter-agency, with representatives from the IDF, from the Defense Ministry, Welfare Ministry, Education- that would make it interagency."