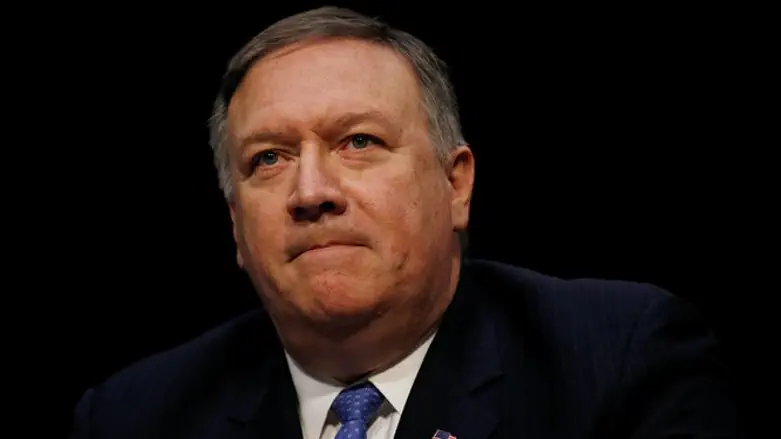 Mike Pompeo
Reuters
Prime Minister Binyamin Netanyahu on Wednesday welcomed the appointment of Mike Pompeo as U.S. Secretary of State.
"During my meetings with Pompeo I was very impressed with his abilities and experience. I believe that in his role as Secretary of State we will also work very well together," Netanyahu said in a statement.
President Donald Trump named Pompeo, who previously served as head of the CIA, as the replacement for Rex Tillerson, whom he dismissed on Tuesday.
Trump later stated that the reason behind the dismissal of Tillerson was his support for the 2015 nuclear deal signed between Iran and world powers.
"Rex and I have been talking about this for a long time. We got along, actually, quite well, but we disagreed on things. When you look at the Iran deal, I think it's terrible. I guess he thinks it was okay. I wanted to either break it or do something, and he felt a little bit differently. So we were not really thinking the same. With Mike Pompeo, we have a very similar thought process. I think it's going to go very well."
Pompeo has in the past criticized the 2015 deal, which Netanyahu also opposes.
In October, he said the nuclear deal is insufficient in ensuring the Islamic Republic has no pathway to developing a bomb. The comment came after Trump adopted a harsh new approach to Iran by refusing to certify its compliance with the deal.
During his time as a Kansas congressman, Pompeo was among a group of American lawmakers who introduced legislation which would have prohibited then-President Barack Obama from providing Iran direct or indirect access to the U.S. dollar or the American financial system.
Shortly before being nominated as CIA chief, Pompeo took to Twitter and wrote, "I look forward to rolling back this disastrous deal with the world's largest state sponsor of terrorism."