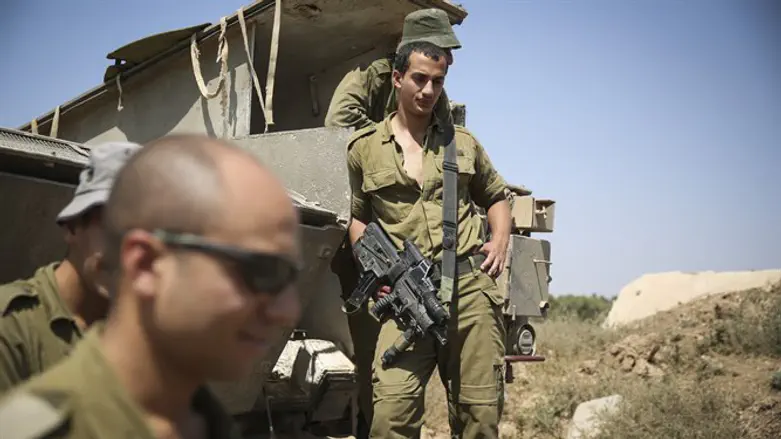 IDF soldiers in Operation Protective Edge
Flash 90
State Comptroller Yosef Shapira released on Wednesday his fourth report on Operation Protective Edge, Israel's 2014 conflict with the Hamas terrorist organization in the Gaza Strip.
The 169 page report, which, unusually, was published in English as well as Hebrew, concluded that Israel complied with the 'minimum requirements' of international humanitarian law in avoiding civilian casualties. However, the IDF received criticism for specific events or failures.
The Comptroller praised the Security Cabinet for the extent to which the Cabinet took international law and the need to avoid civilian casualties in Gaza into account during the conflict. The report noted that the Cabinet discussed civilian safety in Gaza in 18 separate meetings during the conflict.
Shapira wrote that "both the political echelon and the senior military echelon explicitly considered the limitations and rules set forth in international law with regard to the conduct of the fighting in Gaza, and the Prime Minister gave explicit instruction to refrain from harming uninvolved civilians."
The report also noted the complexity of combating an enemy such as Hamas, who deliberately uses civilians as shields and attempts to maximize civilian casualties on both sides of the conflict, It detailed specific cases where the IDF canceled planned strikes due to the probability of high civilian casualties, even when the strikes would have been legal under international law.
However, the Comptroller criticized the IDF on a number of issues, including the slow pace of investigations into specific incidents.
The report took issue with the Hannibal Directive, a special order according to whiich the rules of engagement become less strict in order to thwart the kidnapping of soldiers in real time, shooting at the kidnappers as kidnappings are being attempted even if this might kill the soldier himself. The directive was criticized for not being clear enough for commanders to understand the legal limitations they still faced.
The Hannibal Directive was replaced with a clearer set of orders in 2016.
The report praised the IDF for providing courses to soldiers in the laws of armed conflict, but stated that sufficient hours were not provided for the courses
The report also criticized gaps in intelligence about the locations of civilians in Gaza. The report noted that the IDF does not have enough Arabic-speaking liaisons to contact civilians in Gaza to learn their locations and ensure their safety.
The IDF responded to the report by stating: "The IDF welcomes the comptroller's report, will carefully study its findings and will act to implement the suggestions."

"The IDF attributes great importance to the rules of international law and acts accordingly. As the report states, during the conduct of the fighting in Gaza, the senior military echelon gave significant importance to the rules of international law and many steps were taken to ensure their implementation. The report shows the IDF's commitment to act in accordance with the rules of international law, in practice."