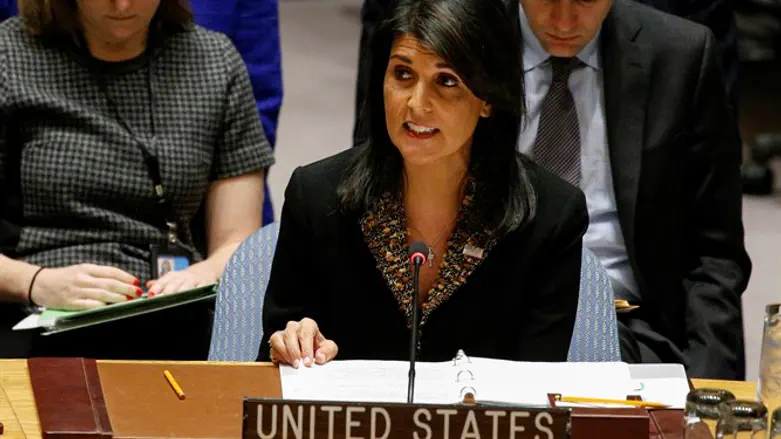 Nikki Haley
Reuters
Nikki Haley, the U.S. Ambassador to the United Nations, warned on Monday that Washington "remains prepared to act if we must," if the UN Security Council fails to act on Syria, Reuters reported.
The United States asked the Security Council to demand an immediate 30-day ceasefire in Damascus and rebel-held Eastern Ghouta, where Syrian President Bashar Al-Assad's forces, backed by Russia and Iran, say they are targeting "terrorist" groups which are shelling the capital.
The army's onslaught in the region, backed by air and artillery strikes, has killed about 1,160 people since February 18, a war monitoring group said, according to Reuters.
"It is not the path we prefer, but it is a path we have demonstrated we will take, and we are prepared to take again," Haley told the 15-member Security Council. "When the international community consistently fails to act, there are times when states are compelled to take their own action."
The United States bombed a Syrian government air base last year over a deadly chemical weapons attack.
The Security Council demanded a 30-day ceasefire across Syria in a unanimously adopted February 24 resolution.
Last week, the White House accused Assad's close ally Russia of ignoring the ceasefire and being complicit in the deaths of civilians in Eastern Ghouta.
Russia and Damascus argue that the ceasefire ordered by the UN Security Council does not protect the fighters in Eastern Ghouta as they are members of "banned terrorist groups".
Russia's UN envoy Vassily Nebenzia also said some states were accusing the Syrian government of carrying our chemical weapons attacks in a bid to "prepare the ground for the unilateral use of force against sovereign Syria."
"We have heard hints of that in the statements of some delegations today," Nebenzia said. "Basically steps are being weighed which could hit regional stability very, very hard."
On Sunday, U.S. Defense Secretary Jim Mattis warned that it would be "very unwise" for the Syrian regime to use gas as a weapon against the people of Eastern Ghouta and elsewhere.
Mattis's warning came amid reports that Syrian President Bashar Al-Assad's forces have used chlorine gas in the rebel-held area near Damascus.
On Monday, the State Department said it was very concerned by the violence and called an "urgent meeting" in Jordan to ensure maintenance of the de-escalation zone.
"If (reports of the strikes are) true, this would be a clear violation of the (southwest) ceasefire by the Syrian regime that broadens the conflict," a State Department official said.
"We urge all parties in the southwest de-escalation zone not to take actions that would jeopardize the ceasefire and make future cooperation more difficult."