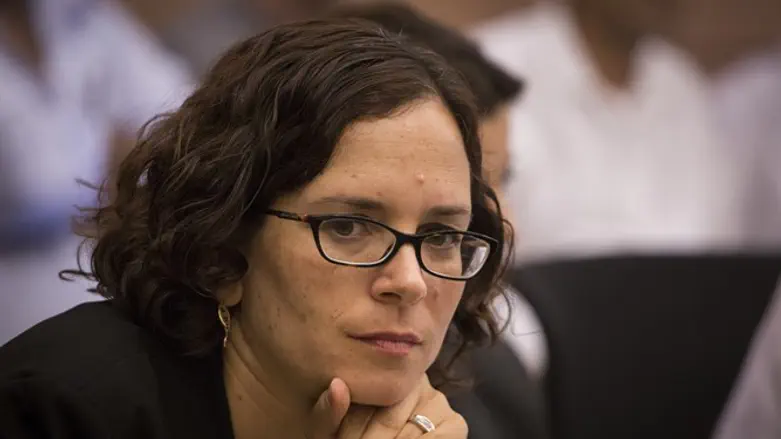 Rachel Azaria
,Hadas Porush, Flash 90
The Knesset's Reforms Committee, led by Kulanu MK Rachel Azaria, approved on Wednesday an amendment to the Employment of Women Law.
The amendment was initiated by MK Yoel Hasson (Zionist Union) and additional MKs, and allows fathers of twins to take three weeks of paternity leave concurrent with their wives'. These weeks will be at the expense of the mother's leave.
"Approximately one year ago, I passed a law allowing fathers to take a week of paternity leave concurrent with the mothers," Azaria said. "This week was counted against her maternity leave. Today, we completed the process, and added an extra two weeks to the concurrent leave fathers of twins can take, at the expense of the mother's extra time."
"This is another step towards equal parenting and helping parents integrate into the job market. After the birth of twins, the first few weeks are extremely difficult, and the option for both parents to take care of their children together immediately after the birth is critical."
"This is another step towards equal parenting, and it comes with a huge benefit to parents of twins," Hasson said. "Thanks to this law, fathers and mothers of twins will be able to take up to three weeks of leave together after the birth. The period after birth is not easy, and when twins are born, it is especially difficult. The time that parents of twins can spend together will allow them to support each other. I am very glad that in a tension-filled political atmosphere, we succeeded - together with MK Azaria - in advancing a social law that will aid parents."
Previously, men were allowed to take paternity leave, but only after the first six weeks and only if their wives returned to work. A new law passed last year allowed fathers to take a week of maternity leave concurrent with their wives, and at the expense of the wife's leave. Also last year, maternity leave was extended by one week, allowing mothers of singletons to take 15 weeks instead of 14, and mothers of twins to take 18 weeks instead of 17, at full pay.
The minimum paternity leave, which previously had been three weeks, was lowered to a minimum of one week. Since this law passed in June 2017, the number of fathers taking paternity leave each year doubled, rising from 500 to 1,000.
According to statistics from Israel's National Insurance Institute, twins are born in 4,000 out of Israel's 176,000 births annually, and triplets or more are born in 80 births annually.