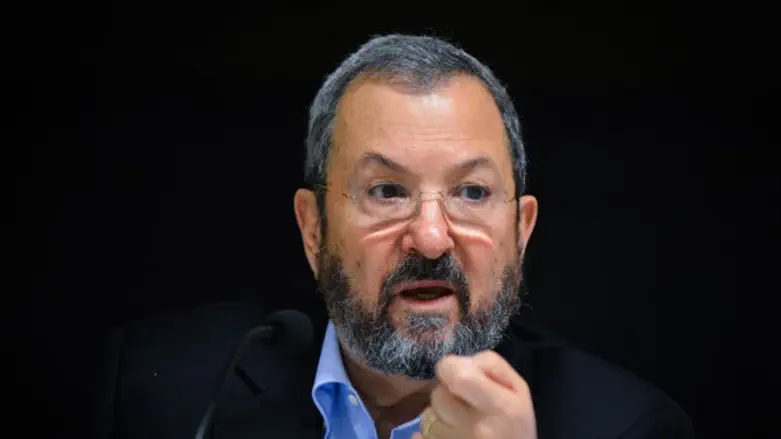 Ehud Barak
Flash 90
Former Prime Minister Ehud Barak (Labor Party) responded today to the police decision to enlist media adviser Nir Hefetz as a state witness.
"Hefetz signed. Bibi's fate is sealed. It's an earthquake. A painful moment even for Netanyahu's toughest rivals. The farce that envelopes Israel in disgrace should be minimized in time for its 70th birthday. Every voter should remember: If he knew, he'll stand trial. If he didn't know, he can't continue to serve," Barak wrote in his Twitter account.
Zionist Union Chairman Avi Gabbay also responded from the AIPAC convention to the police decision. "After we win, we'll cleanse the system of this corruption. With us there'll be no Molchos or Shimronis, no Hefez's and no state witnesses," referring to various personalities involved in Netanyahu's investigations. "There will be only public servants - people who are here for the benefit of the people and the State."
"Here in Washington, I said yesterday to 18,000 supporters and lovers of Israel, who asked about the corruption affairs: We, as a people, are better than the news coming out of Israel recently. After 9 years we deserve a government that deals with the state, not a state that deals with criminal matters of the government."
On the other hand, Defense Minister Avigdor Liberman said the situation did not change after Hefetz signed the agreement. "I don't think anyone really knows or is familiar with the investigation materials," he says. "We have to give the systems time to work with integrity and not try to pressure, influence, or speed things up. I trust all the [law enforcement] systems to do the work in a serious and honest way and we should wait patiently."
"I don't think this will affect the political system, but it's clear that first and foremost we all wish the Prime Minister emerges from all investigations as white as snow," Liberman added.
Earlier, it was reported that close associate of Netanyahu and former media adviser to the Netanyahu family, Nir Hefez, signed an agreement with prosecutors Monday, becoming a state witness in the Case 4000 investigation.
Hefetz was released to house arrest yesterday after being held for two weeks following a Bezeq investigation.
Hefetz has also been named as a suspect in Case 1270, in which he and another former aide to the Netanyahu family allegedly attempted to promote a judge in exchange for the dropping of charges against the Prime Minister's wife, Sara Netanyahu.
Prime Minister Netanyahu's associates responded to Hefez's agreement with the State: "When there's substance to the claims, there's no need for even one state witness, and when there isn't, even a thousand state witnesses won't help. The endless race after state witnesses is the best evidence that there's no substance to the charges - nor will there be."
In the course of the Netanyahu investigations, two agreements have already been signed with people close to the Prime Minister who became state witnesses.
The first close associate of Netanyahu who became a state witness was his former bureau chief, Ari Harrow. The second close associate who became a state witness in February was the suspended Communications Ministry director, Shlomo (Momo) Filber.
As part of the testimony Hefetz gave a full version of the Gerstel affair, which is likely to lead to closure of case 1270..
השר ליברמן ואבי גבאי מגיבים לגיוס ניר חפץ כעד מדינה
חזקי ברוך