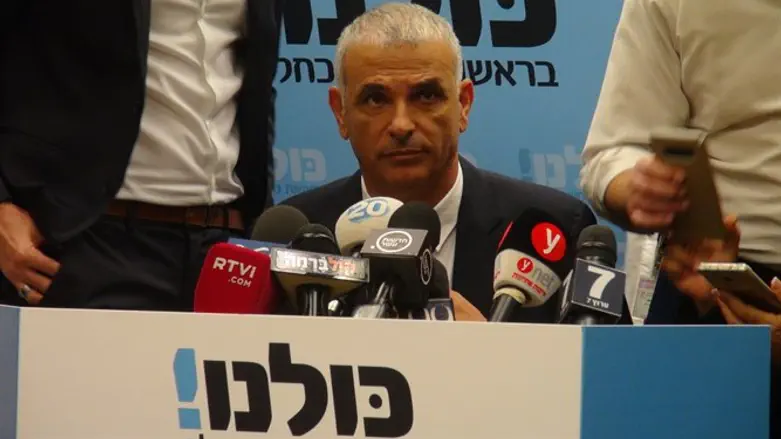 Kahlon in faction meeting
Hezki Baruch
Finance Minister Moshe Kahlon made it clear this afternoon at the start of the Kulanu meeting that if the budget is not approved at the agreed time, he will resign from the government.
"If this budget doesn't pass, I have no public mandate to remain in the government because I'm violating the agreement I made with voters," Kahlon said. "I don't see how I can continue as Finance Minister if the budget doesn't pass, because I won't be able to say that since there's no agreement on the Draft Law, the populations of the elderly, the disabled, Holocaust survivors, young couples, and school students waiting for vacation breaks have to suffer- as the money for them won't be authorized."
Kahlon attacked the haredi attempt to tie the Draft Law and the budget to each other: "The Draft Law can't be combined with the budget. The budget has implications for the economy and the global market for investments. We mustn't involve it in coalition troubles."
"They made a big mistake when they tied the budget to approving the Draft Law. Approval of the 2019 budget is important because in 2018 we advanced funds from 2019, for example in paying pensions. It's not an excuse. If the budget isn't approved, we'll be disrupting the country and harming populations that I don't want harmed."
However, Kahlon said he is not interested in elections at this point in time and counsels circumspection: "We don't think we need to have early elections. The government is working and functioning well and therefore should complete its term until November 2019. Whoever wants to drag us to elections will cause harm to the public, the economy, and stability. I very much hope coalition members will come to their senses and vote for the budget, discuss the Draft Law and reach agreements - this isn't a new issue. I have no doubt that with good will we can avoid elections and be able to function."
כחלון: בלי תקציב לא אוכל להמשיך לכהן כשר אוצר