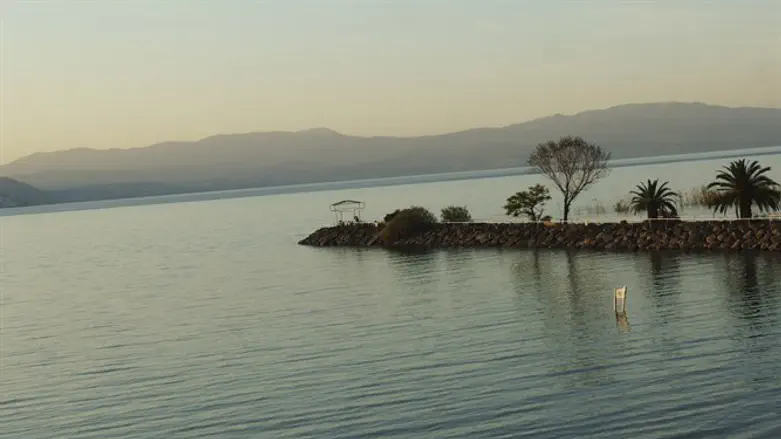 The Kinneret (Sea of Galilee)
Mendy Hechtman/ Flash90
Although it semed a rainy, cold month to the Israeli public, February 2018 was an arid month compared to the same period during previous years, Israel's Water Authority announced Monday afternoon.
Northern Israel received 80-85% of the monthly average during February, while central Israel received 60%.
October, November, and December 2017 were also arid.
The total amount of rainfall this winter reached 86% of the precipitation expected to fall before the end of February. The lack of precipitation affected Israel's central areas.
In February, the Kinneret (Sea of Galilee) rose 37 centimeters (14.6 inches), for a total of 80 centimeters (31.5 inches) since the beginning of the winter. However, it is still 56 centimeters (22 inches) below the lower red line, and 4.76 meters (15.6 feet) below maximum capacity.
An additional 20 centimeters (7.87 inches) of precipitation may fall during March and April, raising the Kinneret's water level by a total of one meter (3.28 feet) instead of the usual 1.65 meters (5.4 feet).
Due to flooding in the Judean Desert, the Dead Sea's level rose by 5 centimeters (1.9 inches) during February.
The Water Authority also noted that Israel has a deficit of 2.5 billion cubic meters of water. Despite the fact that in recent years, Israel has hardly pumped any water from the Kinneret, the water level continues to drop, causing the level of salt to rise. In February, the chloride levels reached 307 milligrams per liter.
Because most water in Israel is desalinated, the drought is not expected to affect individual households. However, the drought is severely harming agriculture, nature, and the environment and the Authority pointed out that the guidelines may change if the coming winter is also arid.