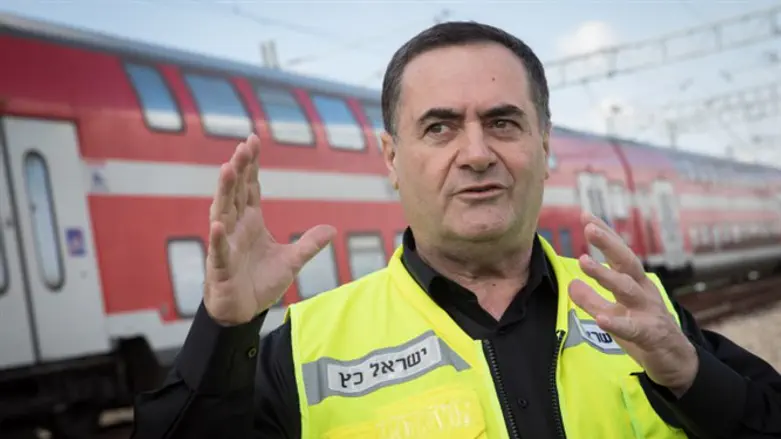 Yisrael Katz discusses opening of new Jerusalem - Tel Aviv train
Hadas Parush/Flash90
The new high-speed train linking Jerusalem to Tel Aviv will begin operating this September, nearly six months later than the original inauguration date of March 30th.
The line, dubbed the "King David Jerusalem Express" completed a successful test run in January.
Travelling at 160 kilometers per hour (99.4 miles per hour), the train is expected to be able to bring passengers from a new underground train station opposite Jerusalem's Central Bus Station to Tel Aviv's Hahagana Railway Station in just under 30 minutes.
Transportation Minister Yisrael Katz (Likud) has made the project a top priority, and until recently, the line was expected to open on schedule.
"When I entered the office, I ordered the Transportation Ministry and Israel Railways workers to work immediately to advance the express train between Jerusalem and Tel Aviv, after the project had been stalled for four years," Katz said in January.
"I made a promise, and I will fulfill it. This coming Pesach, we will allow all of Israel to come en masse to Jerusalem, via the express train from Tel Aviv. We are connecting and strengthening our capital city of Jerusalem, and we are connecting to Jerusalem's history."
Last month, however, experts warned that the line was months away from being fit for regular operations and that there was "no reasonable chance" trains could operate safely on the line in time for the March 30th opening.
In February, Globes obtained oral assessments and audit reports confirming that the line will not be safe to use until at least August. Though the State Comptroller warned that completing the construction in a hurry may endanger lives, safety rules continue to be ignored, and "essential coordination checks between the various systems have not yet been carried out," the report claimed. In addition, work is still being done on both the track and the communications systems in the various tunnels.
One electrical engineer said there is "no reasonable chance" that the line can be safe and fully functional by March 30, since system tests, especially on the command and control system and the electrical system, must be carried out "for several months."
On Monday, Transportation Minister Yisrael Katz told the Knesset's State Control Committee that the ministry had revised its plans for the opening of the new rail line, pushing back its opening until September.
Katz vowed, however, that the line would be operational before the Sukkot festival, which begins on September 23rd. He added that the lines will be open for free during the intermediary days [Hol Hamoed] of the holiday.
Trains will run every 20 minutes in each direction during peak hours, Katz said, and will reach Shalom station in Tel Aviv during the first few months of operation. In phase two, trains will reach Tel Aviv's Savidor Center Station.