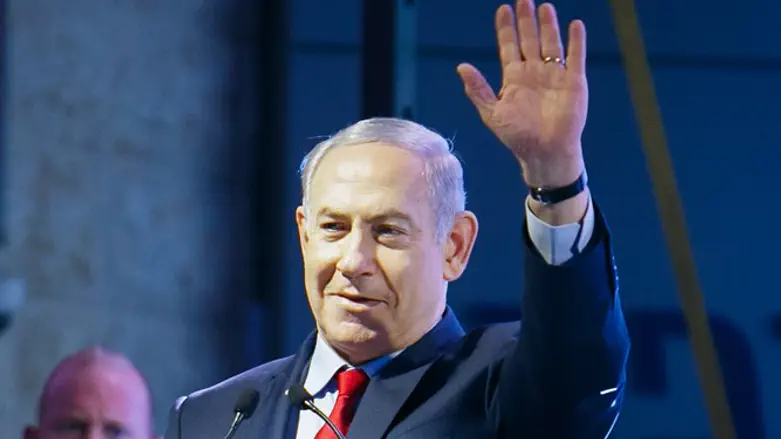 Netanyahu
Flash 90
A new poll, conducted by Geocartography for the Likud party, showed that if elections were held today, the leading Likud would receive 36 Knesset seats. Analysts have responded that much of the public sees the allegations against Netanyahu and his wife and the collusion revealed between an investigator and judge in Case 4000 as motivated by a desire to topple his government, and reacts accordingly.
According to the poll, which included 567 participants in sample chosen from the general population, Likud would receive 30 seats of its "own," plus another six seats from parties which lose strength or "disappear."
The poll gave the Yesh Atid party 23 Knesset seats, while the Zionist Union, Joint Arab List, and Ashkenazic-haredi UTJ received ten Knesset seats each.
The Jewish Home party received eleven Knesset seats, while Meretz received six. Defense Minister Avigdor Liberman's Yisrael Beytenu party and Finance Minister Moshe Kahlon's Kulanu party both received five seats. The Sephardic-haredi Shas party received four Knesset seats.
Last week, a poll gave Likud 28 seats, with Yesh Atid a close second at 24. A similar poll conducted the same week gave Likud 27 seats, and Yesh Atid 23. An earlier poll showed Likud as receiving 34 seats while Yesh Atid received 20. In that poll, the Shas party was shown as failing to pass the electoral threshold.