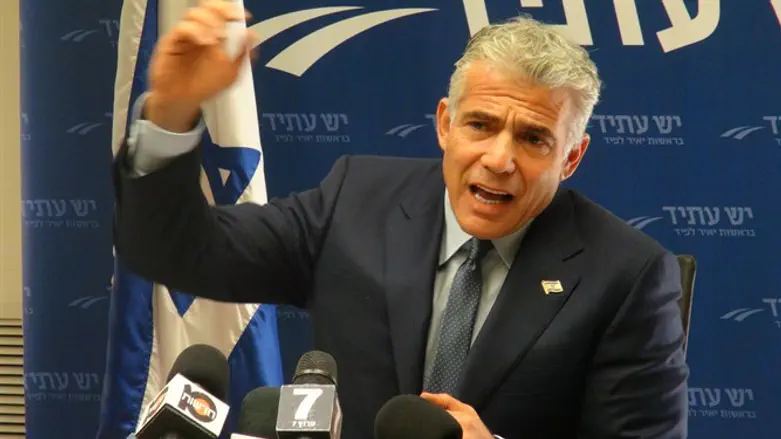 Yair Lapid
Hezki Baruch
Yesh Atid chairman MK Yair Lapid on Thursday reiterated his claim that there was no reason for him to submit a conflict of interest document regarding his ties with businessman and Hollywood producer Arnon Milchan.
"In the end, they're trying to complicate a simple story: I worked for Milchan 22 years ago. You don't submit a conflict of interest document about something which happened 22 years ago. I never said I wasn't a friend of his," Lapid told Hadashot TV in an interview.
"A conflict of interest can only exist if you act for the benefit of someone, being a friend of someone is fine - as long as you do not get a million shekels from them. I have never received a penny. I do not owe anyone but the public," he argued.
"I have not spoken to him for a very long time, I have much better friends and many more close friends," Lapid added.
The interview followed a report in Haaretz which revealed that, in his former role as the finance minister, Lapid had asked for a professional opinion from the treasury on a law that would have doubled tax breaks for wealthy expatriate Israelis returning home before scuttling it, rather than rejecting it outright, like he has claimed.
The amendment to the law would have extended the duration of tax relief on gains made overseas for wealthy Israelis who came back to Israel after living abroad from 10 to 20 years.
Milchan figures prominently in the investigation of "Case 1000", which centers on suspicions that Prime Minister Binyamin Netanyahu received approximately one million shekels ($283,000) in gifts, including jewelry, cigars, and champagne from wealthy businessmen, including Milchan, in exchange for political favors.
Investigators recently stated that they believe sufficient evidence has been collected to merit indictments in both "Case 1000" and "Case 2000", which centers around charges of collusion with Yediot Aharonot publisher Noni Mozes.