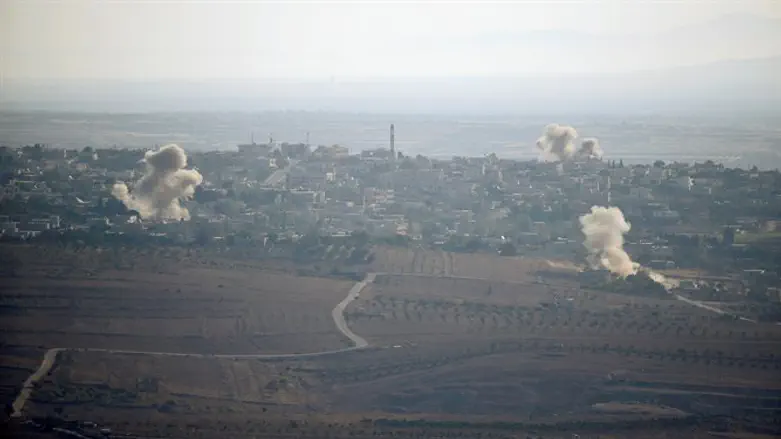 Syria
Reuters
Russia prevented Iran from setting up a base in the port of Tartus, which is located in western Syria, Israeli public broadcaster Kan reported on Thursday.
According to the report, Israel expressed its satisfaction with the Russian move in the hope that it sent a clear message to the Tehran regime.
Earlier this week, Fox News reported that satellite images taken by ImageSat International's Earth Remove Observation Satellite showed evidence of a new Iranian military facility at Jabal ash Sharqi, eight miles northwest of Damascus.
Two hangars are visible in the images, and are likely used to store short and medium range missiles.
Defense Minister Avigdor Liberman said in response that "not all information in the media should be treated as absolute."
In an interview on Reshet Bet public radio, he explained that "we are attentive and monitor all the goings on, and we have the true and complete picture."
At the same time, the defense minister said that "we will not agree to Iranian consolidation in Syria and certainly not to the deployment of missiles directed at Israel. It's not just one base or another, but an Iranian attempt to establish itself with many actions and directions, and there will be concessions on this issue."
"There is nothing new under the sun. We are not going to deteriorate the situation and we are also not forgetting Israeli interests. We will also act in the international arena and do everything possible," Liberman said.
Prime Minister Binyamin Netanyahu has repeatedly stated that Israel will not tolerate an Iranian foothold on its northern border.
Earlier this month, an Iranian unmanned aircraft operating out of Syria violated Israeli airspace before being shot down by Israeli forces.
Israel Air Force fighter jets responded with a series of airstrikes on Syrian and Iranian military targets around Damascus, including a site used to operate the downed Iranian drone. Syrian human rights observers claimed at least six Syrians and foreign nationals – likely Iranians – were killed in the Israeli strikes.